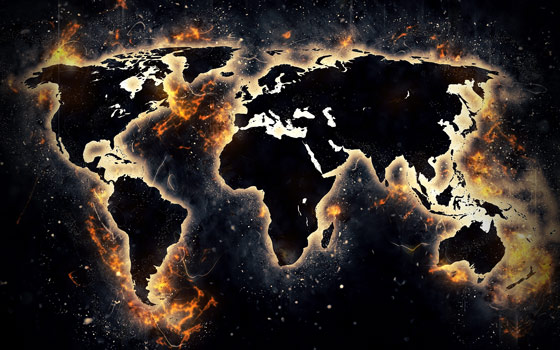 There is a tremendous amount of volatility in Eastern Europe politically, economically, and militarily.  The volatility translates into tremendous shifts in these areas: nations of Eastern Europe are shifting toward either the American/NATO axis or toward stronger alliances with Russia.  Although the election of President Trump has the potential to make a total reset with Russia and promises stronger inroads of cooperation between him and Vladimir Putin, there are still some "sore spots" that may hinder that progress.
One of those "sore spots" is named John McCain, Republican Senator of Arizona.  Rather than a renewed spirit of détente between the U.S. and Russia, McCain desires nothing more than to start a war with her.  Let us first examine some of the major nations in-between: those caught between the U.S. and Russia, yet forced to pick a side, although all have not completely decided.
A major shakeup occurred Saturday, February 11, 2017, when it was announced that the Commanding General of all Ukrainian armed forces suddenly died of heart failure while on the job.  If foul play is found to have been involved, it would be from the Russian side of the fence, as the Obama administration and the U.S. Congress have supported the Kiev governments (U.S.-installed-Yatsenuk-puppet government, followed by "elected" Ukrainian Poroshenko government) for more than five years, now.
As of this moment, a tremendous amount of indecision is leaving Ukraine in a nebulous zone, as we have a U.S. President who clearly wants to repair relations with Russia.  This conflicts with the recent (within the last two years) actions of Congress, however, that has repeatedly voted to aid the Kiev government against the separatists of the Donbass and Eastern Ukraine.  This is also the year that hard military equipment is supposed to be sent by the U.S. to the Kiev government.  It was already approved by Congress and signed off by Obama before he "two-stepped" out of the White House.
This is to include ammunition, munitions, weapons, light and heavy armored vehicles, and other "niceties" …of which Russia has warned that sending any of these items would trigger an immediate war.  Bringing McCain into focus, it was his efforts, along with those of Senator Lindsey Graham (R-SC), and the State Department's recently "abdicated" Victoria Nuland that toppled Viktor Yanukovych, unleashed Maidan, and overthrew Ukraine's government in a coup d'état.  Right now, Ukraine is front and center in Eastern Europe with the Kiev government egregiously violating the Minsk Accords for ceasefire.  Kiev has done so with artillery barrages and armored incursions into the Donbass that have inflicted civilian casualties and heavy damage to civilian residential areas.
Andrew Korybko of Sputnik News released this piece on February 11th that well characterizes the positions of the U.S. and Russia and the situation:
"…Russia and the US obviously support different sides in the War on Donbass, with Moscow being favorable to the rebels while Washington has provided open military support for Kiev. There are unconfirmed rumors that Trump's position towards Poroshenko will be different than his predecessor's, though that still remains to be seen. Even so, some analysts believe that Kiev is trying to "test" Washington by provoking the War on Donbass in order to pressure Trump to align with his predecessor's policies and blindly throw his weight behind Poroshenko. If he does that, then it might complicate Russian-US efforts to seal a sought-after deal for a New Détente to the New Cold War, which is why some people are fearful that Kiev has laid a trap for the US through its latest aggression against Donbass."
In the meanwhile, Serbia has recently increased trade and financial cooperation with Russia.  By December of last year, three Russian banks, namely Expobank, VTB, and Sberbank are now in operation in Serbia.  Gazprom Neft (a subsidiary of Gazprom that operates in Serbia) invested almost a billion Euros in Serbia and created approximately 4,000 jobs there.  In December, Serbia also asked Russia for weapons systems to boost up defenses, specifically fighter aircraft as well as other military equipment.
"We are hoping to significantly increase our defense capability…to ensure that nobody can threaten our territorial integrity and independence."

Serbian Foreign Minister Ivica Dacic, 12/12/16, Sputnik News
This is noteworthy, as the remark was made in December prior to the Presidential inauguration while the Obama administration was quietly "ratcheting up" the U.S. troop presence in Eastern Europe.  In addition, U.S. policy and relations with Serbia have utterly plunged into the toilet over the past two decades.  This is attributable to the bombing campaign conducted against the Serbs by Bill Clinton that completely betrayed the trust and friendship of the Serbian people who were once our allies in WWII.  Now the Serbs are working with Russia, undoubtedly the bitter taste of Bosnia and the U.S.-led campaign still in their memory.
Romania is also undergoing dramatic upheaval.  The ruling Social Democrat Party just moved to "decriminalize" any corruption charges or sentencing for incidents totaling under $48,000.  The government is in the process of reversing the legislation; however, thousands of protesters jammed the streets of the capital in Bucharest just this weekend.  There are also many non-governmental organizations working behind the scenes that are instigating protesters, and many fear a "Maidan-like" color-uprising that may topple the government.  This bears special significance, as the U.S. just signed accords last summer to place missile "defense" systems in Romania…that can easily be converted to an offensive system in a matter of hours.
Poland, Latvia, Lithuania, and Estonia have seen U.S. troops and armored units deploying for unspecified periods of time in a buildup reminiscent of the Cold War Era; these deployments were ordered and initiated by Obama, who is not in the White House now.  Nevertheless, the deployments and troop buildups continue.  The Russians want the U.S. to lift the sanctions brought against them by Obama and the McCain-led Congressional Members who want war with Russia (specifically those tied into the MIC – Military Industrial Complex through lobbyists, bribes, and investments).
McCain just won another contest, making this his sixth (6th) term as a Senator.  He has instigated enough discord to warrant his removal from office at the very least, and now he stands in stark, open opposition to the President and a repair of relations with Russia.  He is (as we speak) working on fomenting problems between Russia and the U.S. by supporting the increases in U.S. troop presences throughout Eastern Europe.
This is a time of great uncertainty that approaches the complexity of the breakup of the former Soviet Union regarding the Eastern European nations.  The success of our future foreign policy depends upon the President "reigning in" a Congress that has been pushing us in the direction of a war with Russia via the instigation of a few individuals.  The way this plays out over the next year may very well decide relations and foreign policy with these nations for the next several decades to come.
---
Jeremiah Johnson is the Nom de plume of a retired Green Beret of the United States Army Special Forces (Airborne).  Mr. Johnson is also a Gunsmith, a Certified Master Herbalist, a Montana Master Food Preserver, and a graduate of the U.S. Army's SERE school (Survival Evasion Resistance Escape).  He lives in a cabin in the mountains of Western Montana with his wife and three cats. You can follow Jeremiah's regular writings at SHTFplan.com or contact him here.
This article may be republished or excerpted with proper attribution to the author and a link to www.SHTFplan.com.
Also Read:
North Korea Has Resumed Nuke Operations: "The President and the Secretary of Defense Are Taking It Seriously"
12 Things President Donald Trump MUST Do For America To Be Great Again
Trump Can't Stop It: "The People Who Have Been Orchestrating The Collapse Have Not Halted Their Agendas"