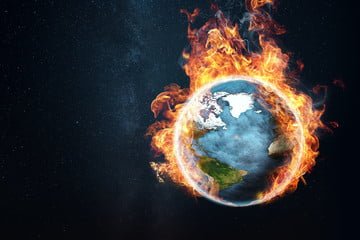 Climate change alarmists and left-wing groups all seem to agree that the Earth is doomed and the year 2030 is the "tipping point" to stop climate change. But Think Progress additionally warned that if President Donald Trump is reelected in 2020, the Earth is doomed.
This new doomsday scenario means that the United States is solely responsible for Earth's demise if people vote for Trump. "The richest country in the world and the biggest cumulative source of heat-trapping emissions over the past century," the United States, has just 14 months to act, not 12 years, reported WND. The 12-year reference comes from the 2018 United Nations "Special Report on Global Warming of 1.5ºC," released in October 2018. That report essentially concludes that 2030 is the point of no return if nations remain on the current path.
ThinkProgress writer Joe Romm said that with "eight years of a pro-science president, Barack Obama, the nation made steady progress on reducing emissions and committing to future reductions, enabling a global climate deal in Paris in 2015. But with just two and a half years of an anti-science administration, national and global progress have both stalled under President Donald Trump, who has begun to abandon the Paris Accord and undermine action here and abroad," he wrote.
Climate Change Group Wants $500K To Carve Trump's Face Into Glacier To Watch It Melt
"If Trump is reelected, the prospects for the necessary national and global cuts in carbon pollution by 2030 will be gone," he said. That means the new doomsday date November 3, 2020, according to liberals. It is now "the deadline for Americans who do not want to destroy the health and well-being of current generations, their children, and future generations."
Prince Charles of Great Britain recently said the Earth has only 18 months before it is gone forever and socialist Alexandria Ocasio-Cortez says there's still 12 years to go.
But Climate Depot founder Marc Morano says that this is all typical fear-mongering of leftist climate change alarmists. Morano stated that climate "tipping points" have been a staple of the global warming movement for decades. The United Nations issued such warnings in 1982, and it declared a "10-year tipping point" in 1989. "It's difficult to keep up whether it is hours, days, months or 1000 years," Morano wrote, citing other predictions.
But don't mention geoengineering, or you'll be labeled a conspiracy theorist.
https://www.shtfplan.com/headline-news/geoengineering-waging-weather-warfare-on-world-populations_06042019
Deadly aerosols that poison the air, food, and water supplies have been injected into the atmosphere since the late 1940s. The program, known as geoengineering, has been implemented by wealthy eugenicists to deliberately sabotage the planet and commit mass murder. By directly poisoning the Earth's life-sustaining natural resources, geoengineering offers a compound approach to depopulation. The ionospheric heaters, which are used in conjunction with geoengineering, allow for the creation of artificial droughts and floods that are impacting many nations. Geoengineering has unleashed fatal climate feedback loops that have set the planet on a doomful course. The fallouts and weather attacks further a deceptive gambit for global feudalism known as Agenda 21. With obstructive policies and rising costs, they intend to seize private property and herd citizens into megacities with towering prisons that hold hundreds of thousands of people. –Geoengineering: Planetary Sabotage & Human Extermination