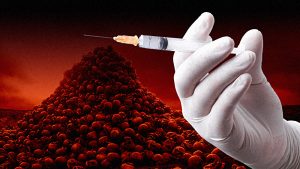 The rulers are continuing to threaten the slaves. They need 100% compliance in their mass vaccination scam and all they have left are threats, as people continue to refuse.
German Health Minister Jens Spahn has said that everyone will be immunized or succumb to the coronavirus in the coming months as he urged the public to get the shot. "Probably by the end of this winter, as is sometimes cynically said, pretty much everyone in Germany will be vaccinated, cured or dead," Spahn said on Monday, according to a report by RT.
Resisting Tyranny Depends on the Courage to Not Conform
This is, of course, the emptiest of threats. We've seen that COVID is nothing more than a cold or the flu that they are using to inject the whole of humanity. So unless they unleash something that is incredibly sinister and will actually do some damage to people, this guy will soon enough, be shown to be a liar. But another tyrant is now telling those who continue to refuse the shots that they will die.
Similar rhetoric was recently used by Hungarian Prime Minister Viktor Orban. Speaking to Kossuth radio on Friday, he lashed out at anti-vaxxers, branding them a threat and saying they "will realize that they will either get vaccinated or die."
The fear-mongering will continue and the scamdemic won't end until the rulers get their way, or we all wake up to what's going on and remove authority and slavery from this planet permanently.
Ruling Class: The Scamdemic Won't End Until The WHOLE WORLD Is Vaccinated
The Fear-Mongering Never Ends! Germans Will Have A "Really Terrible Christmas" Unless They Obey
Not only are they are amping up the fear, making these shots mandatory, but they are now saying you have to get a third injection. If you think it stops at a third shot, you're delusional.
"In the end, everyone will have to be vaccinated; even the anti-vaxxers will realize that they will either get vaccinated or die. So, I urge everyone to take this opportunity," Orban said.  "The only thing that protects us from the virus is vaccination. And we are now also seeing, at least the experts are unanimous in saying, that four to six months after the second vaccination, the protective power of the vaccine weakens. Therefore, a third vaccination is justified," he said.
What in the world do they have planned? This does not sound good, folks. Stay alert and aware of what these sociopaths keep saying. They will not give up.  For some reason, their New World Order agenda requires a vast majority of the population to comply with these shots.