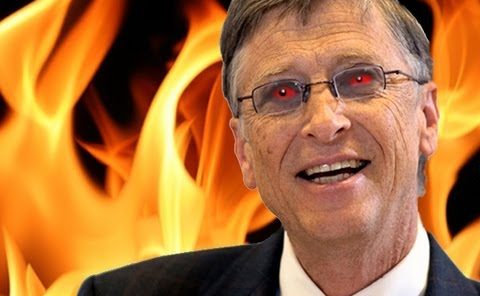 Bill Gates is truly sadistic.  After saying we had "pandemic one" and will have "pandemic two," he says the "next time" will get attention.  Right after he says it, he and Melinda Gates smile in glee at the carnage they are about to unleash on the rest of us.
These two humans are insane sociopaths. Watch the interview below with Forbes and the Gates. They have no compassion or a fundamental understanding of what it means to be human. Now that states are locking down again, as we've been warning based on the media's fear-mongering, the second wave has arrived.
Watch Melinda Gates laugh as she talks about ebola arrived in Lagos, a populous state like it's hilarious that people are going to get sick and die. "You know, we'll have to prepare for the next one," Gates says. "That, you know, I'd say is, ah, will get attention this time."
Gates also says he hopes the United States will "step up" when it comes to the coronavirus vaccine.  It will be mandatory. And it will cause damages to an untold number of people. Melinda Gates even begins by admitting the World Health Organization isn't perfect, but we should all submit to their rule over our bodies and allow them to control our minds and so whatever they want.
The one positive thing is the dislike to like ratio on this video on YouTube. Far more people are disgusted with these people than not. Perhaps there is hope for humanity after all. Hey Gates: We do not consent. We will not comply.
The Gates also talk about the vaccine with glee.  They know exactly what kind of terror they plan to unleash on the rest of us.
Robert Kennedy Jr.: "Pharmaceutical Drugs Are Now The 3rd Leading Cause of DEATH" In
Bill Gates ADMITS The Problem With A Vaccine Is Convincing People To Get It
The big problem, as admitted by Gates himself, is convincing people to get vaccinated with all the information out there proving vaccines are neither safe nor are they effective. This is why we predict the vaccine will NOT be voluntary. It will be mandated by law, if not federally, state-wide.
No one is coming to save us. We need to save ourselves, by standing together and uniting and disobeying the orders to get vaccinated. It's up to us how much tyranny we are willing to accept. If you give up body autonomy, you have submitted that someone else owns your body and what can be put in it. Wake up, stand up, and do not comply.
Yet "this time" if it's designed to "get our attention," we may need to be concerned about the powers that shouldn't be concocting a real problem that is actually going to hurt or kill people. If the first scamdemic didn't scare people, and the second one will get our attention, and we know the Gates are psychopaths, it bears hypothesizing that they might actually harm people to panic the masses enough to force their agenda through.