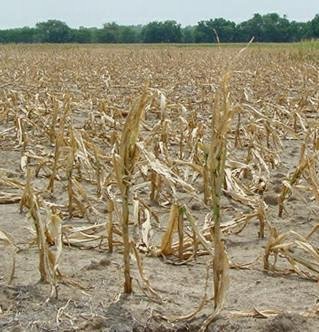 You've no doubt read the reports and seen the videos all over the web regarding the severity of droughts in major food producing nations. Eric deCarbonnel, of Market Skeptics, wrote an excellent article titled Catastrophic Decline in 2009 Global Food Production where he researched the extent of the problem globally. If you are worried about SHTF, then add food to your growing list of concerns (if you haven't already!).
 
 
Here is a brief synopsis of Mr. deCarbonnel's research and the perfect storm that is brewing for coming food shortages:
The countries that make up two thirds of the world's agricultural output are experiencing extreme drought conditions [affecting food crops and livestock] including the United States of America, China, Argentina, Brazil, Australia.
Due to the combination of a late plantings, poorer soil conditions, reduced inputs, and light rainfall, Europe's agricultural output is likely to fall by 10 to 15 percent.
A lack of credit for farmers curbed their ability to buy seeds and fertilizers in 2008/2009 and will limit production around the world
The low prices at the end of 2008 discouraged the planting of new crops in 2009. In Kansas for example, farmers seeded nine million acres, the smallest planting for half a century. Wheat plantings this year are down about 4 million acres across the US and about 1.1 million acres in Canada. So even discounting drought related losses, the US, Canada, and other food producing nations are facing lower agricultural output in 2009.
Low stocks of foodstuff make the world's falling agriculture output particularly worrisome. [Mac's comment: I don't have the source now, but I recently read that global food stocks are at a multi-decade low of 57 days. If the SHTF, we're going to see this depleted very rapidly]
Already rising food prices are headed significantly higher.
If you are looking for specific numbers, take a look at Mr. deCarbonnel's article.
Food shortages, which will ultimately lead to exploding commodity and retail food prices, combined with mounting job losses across the world (est. 50 Million globally) can quickly lead to civil unrest and riots, as has been predicted by Gerald Celente, and more recently, Peter Schiff.
What can you do?
The obvious answer is: Get a reserve food supply. While I don't expect food to be completely unavailable for the masses, it would be in your best interest to have a 60 day reserve food supply. This way, if the SHTF, you'll at least have 2 months worth of food. And, if food is not completely unavailable, you can supplement the bread and soup you get for your family after waiting in depression-like food lines with a nice side of Bush's Baked Beans and some Vienna sausages.
How can you profit?
If you have some extra money sitting on the side lines you might be wondering how to make a little money from this looming disaster. If this is the case, then you're in luck!
Legendary investor Jim Rogers  and well known economic forecaster Marc Faber suggest buying commodity index ETF's that follow the price of major commodities like wheat, corn, soy, sugar and grains.
Commodities are near their recent lows as of this writing, so now might be a perfect time to make an investment that could pay off 200% – 300% in the next couple of years.
I am partial to the Invesco Powershares DB Agriculture Fund (DBA). This ETF holds equal weightings of Corn, Wheat, Soy and Sugar. I like this particular ETF because it has been around longer than most commodity ETF's and it has a trading volume around 1 million shares per day.
If you are interested in an all inclusive commodity basket, take a look at Greenhaven Funds Continuous Commodity Index Fund (GCC) which equally distributes its holdings across 17 different commodities, including corn, wheat, grains, livestock, and orange juice.
And, if you want to leverage your commodities holdings 200% against the Dow Jones—AIG Commodity Index check out the ProShares Ultra Ultra DJ-AIG Commodity ETF (UCD). This ETf, like GCC above, has a basket of commodities that includes 25 holdings. In a commodity price spike, this ETF should theoretically have higher earnings than the above two ETF's, as this is an 'ultra', leveraged ETF. There is some additional downside risk because of this, as well.
Note – Investments in commodities ETFs are subject to this risk of that sector. This article should be used for informational purposes only and is not investment advice.