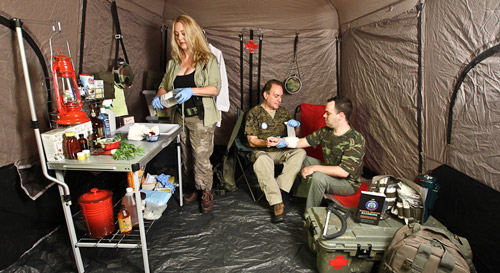 (Pictured: Nurse Amy Alton and Dr. Joe Alton At Medical Preparedness Training Seminar)
Should we ever be presented with a situation wherein the system as we have come to know it collapses, the one thing we can be certain of is that we will be faced with a variety of life-threatening situations.
Dr. Joseph Alton and Nurse Amy Alton of DoomAndBloom.net  explain in their recently revised and expanded edition of The Survival Medicine Handbook:  The Essential Guide For When Medical Help Is Not On The Way:
Since the last edition of this book was published, the natural and man-made disasters humanity has endured have been too numerous to count. Floods, tornadoes, hurricanes, heat waves, blizzards, and other weather events have caused major damage and loss of life.Terrorist attacks and active shooter events have become more commonplace. International tensions have elevated and may lead to a major confrontation in the future.

It's hard to witness recent events without a vague sense of foreboding. Regardless of your political beliefs, somewhere in the back of your mind you know that things are not the same as when you were a child. There are more extreme weather events. There are more open declarations of hostility and violent acts almost everywhere, sometimes by organized groups and other times by the unhinged and deranged.

Despite our current predicament, those who prepare for the consequences of these happening are looked upon with amusement and, sometimes, suspicion. The general population associates them with reality show contestants that dress in camouflage and live in bunkers
All of the events mentioned above have lead to almost unimaginable losses of life and injuries in just the last 10 years alone, not to mention similar disasters through the centuries. Nowadays, these events seem to happen so regularly that most people have started ignoring them altogether. For the general population it is merely another news story amid a rapidly evolving 24-hour news cycle. They can ignore the devastation because it's happening on television, almost as if it is a scripted reality show.
But those who are grounded in actual reality understand that disasters happen quite regularly, all over the world, and can come at anytime. And when those disasters strike, your neighborhood, region or entire country could affected to such an extent that the things we have come to rely upon in our every day lives could be gone in an instant.
Law and order would break down, leading to looting, robbing and pillaging. The power grid itself could be compromised, knocking out electricity and everything that is dependent on it, including public water filtration systems. And as we've seen in major disaster zones in the United States and elsewhere, a total shutdown of transportation services and the ability to acquire essential goods at grocery stores often has immediate impact.
But one often ignored aspect of preparedness is perhaps the most important, because when a significant disaster strikes, we can fully expect emergency responders, including hospital workers, to stop showing up for work.
Excerpted from The Survival Medicine Handbook:  The Essential Guide For When Medical Help Is Not On The Way:

In a situation where power might be down and normal methods of filtering water and cleaning food don't exist, your health is as much under attack as the survivors in the last zombie apocalypse movie. Infectious disease may run rampant and it will be a challenge to maintain sanitary conditions. Simple activities of daily survival, such as chopping wood, will commonly lead to cuts that could get infected. These minor issues, so easily treated by modern medical science, can easily become life-threatening if left untreated in a collapse.

Clearly, you owe it to your family to devote some time and effort to obtain medical knowledge and supplies. You may be an accomplished outdoorsman; you may have plenty of food and your share of defensive weaponry. That's commendable, but what would you say to a member of your family who becomes ill or injured? Take two bullets and call in the morning?
The one thing many preppers forget to consider is that if you are put into a situation where you have to pull out your guns to defend your home, those attacking you are likely not going to be waving just baseball bats or throwing rocks. They're coming to the gunfight armed with guns and there is a distinct possibility that your loved ones could be injured.
But that's just one of may potentially deadly scenarios that could befall you in a post-collapse world. As the Altons note:
There will likely be a lot more diarrheal disease than gunfights at the OK corral. History teach us that, in the Civil War, there were more death from dysentery than there were from bullet wounds. Some survivalists' motto may be "Bean and Bullets", but we say "Beans and Bandages, then bullets."

It's a hard reality that you will eventually be responsible for healing the sick and treating wounds. Someone has to make the commitment to learn how to treat medical issues and store medical supplies; in other words, to volunteer as family medic in times of trouble. 

If you accept the role of medic, you will be taking a genuine first step towards assuring your family's survival in dark times.
It is for this reason that we strongly encourage our readers to consider The Survival Medicine Handbook. It's been rated five stars for a reason and each of the adults in our family has one in their emergency supply packs. Whether we plan to hunker down or have to go mobile in an emergency, it is absolutely essential that we have a reference guide to help us treat the myriad of medical emergency and conditions we may be faced with.
At over 600 easily digested pages, the handbook is an essential resource that includes everything from medical supply lists to improvising tools around your house. You'll find real-world emergency scenarios and the types of injuries you can expect, as well as scores of common medical conditions and how to treat them when there is no doctor to be found.
In a real emergency, where someone you love and know has been injured and faces the real possibility that their wound or condition could be fatal, the last thing you want to do is panic.
Because when people panic, people die.
You can order your copy of the newly revised and expanded Survival Medicine Handbook by clicking here.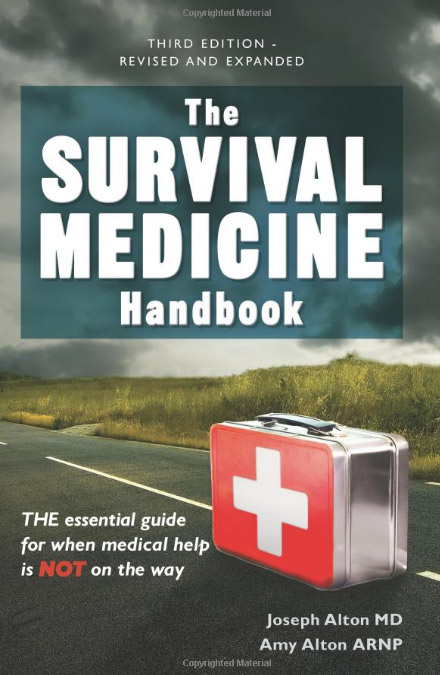 Visit Dr. Joe Alton and Nurse Amy Alton at DoomAndBloom.net