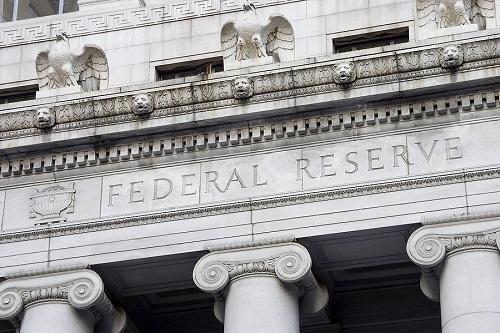 The United States' central bank, the Federal Reserve, is expected to raise interest rates again, in spite of a stock market that's been stumbling and on track for the worst December since the Great Depression.
According to NPR, the Fed last raised rates in September. Since then, the U.S. economy has given off mixed signals. The job market remains strong, with unemployment at the lowest level in nearly 50 years and economic growth clocked in at a solid 3.5 percent in the third quarter. But the stock market is stumbling and home sales and car sales have slumped because of the higher interest rates. Not to mention the ongoing trade tensions between the United States and China which have led to growing fears about the outlook for the global economy.
President Donald Trump has even taken to Twitter to announce the Fed's plan to hike interest rates again.
https://twitter.com/realDonaldTrump/status/1074657278974939138?ref_src=twsrc%5Etfw%7Ctwcamp%5Etweetembed%7Ctwterm%5E1074657278974939138&ref_url=https%3A%2F%2Fwww.npr.org%2F2018%2F12%2F19%2F677763159%2Ffed-expected-to-raise-rates-despite-trump-attacks
The decision to raise the interest rate will affect the rates on all kinds of borrowing, from home mortgages to credit cards. The 30-year mortgage rate in the past year climbed from 3.95 percent to a peak of nearly 5 percent in November, which is a seven-year high. It has since dropped to 4.63 percent, still higher than most borrowers would want.
Trump also called the Fed the "greatest threat" in October in an interview with Fox Business, and has singled out Fed chairman Jerome Powell for harsh criticisms., of which the central bank is in desperate need of. The Fed is answerable to no one and usually insulated from political pressure. Presidents in recent times, including Trump's predecessors, Barack Obama, and George W. Bush, have refrained from overtly criticizing the central bank, probably because they collude with the government for economic destruction.
https://www.shtfplan.com/headline-news/central-banks-collusion-global-debt-will-cause-the-ultimate-destruction-of-the-system_01222018
Meanwhile, Powell has said that the economic outlook remains solid and that interest rates are nearly within a "neutral" range which seems to be indicating that the Fed may not be immediately worried about any inflation. "Interest rates are still low by historical standards," he said in November.
Stock prices have fallen sharply since early November and it is somewhat rare for the Fed to raise rates in the face of a sustained market selloff. So there's an outside chance the Fed could change course and pull a stunner by keeping rates steady at the Wednesday meeting.