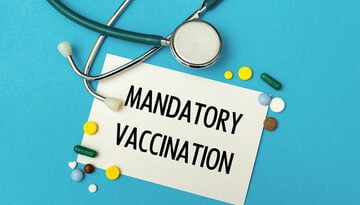 The COVID-19 "vaccine" makers are now seeking full approval from the Food and Drug Administration. When (not if) that happens, businesses and schools and governments will be mandating the shot.
The companies behind two of the COVID-19 vaccines authorized for emergency use in the United States have applied to the Food and Drug Administration for full approval, which would allow them to market directly to consumers—and potentially boost confidence in the doses, according to a report by National Geographic.  FDA approval could also lead more employers and schools to issue vaccine mandates.
On May 7, Pfizer and BioNTech became the first companies to apply for approval for their two-shot mRNA vaccine; Moderna, which also offers a two-dose mRNA vaccine, followed on June 1. These could be approved literally, any time now.
Convenient timing for dependence day. Once these "vaccines" are approved (and we know they will be) many companies will mandate that they be given to all employees as a condition of said employment. Schools would likely mandate them as well and all government workers would also likely be forced to take the shot or lose their job.
The New York Times, in an article titled "It's Time for the F.D.A. to Fully Approve the mRNA Vaccines," claims more "hesitant" people would line up if the FDA approves the jab.
Some people who understand that the "E" in "E.U.A." stands for "emergency" are waiting for full F.D.A. approval before they receive a shot. Others may not get immunized unless their employers require it, and many organizations — including, reportedly, the military — are waiting for the vaccines to be fully approved before instituting such mandates. -The New York Times
The army has also reportedly already been told to prepare to administer the mandatory vaccines starting September 1.
The Army has directed commands to prepare to administer mandatory COVID-19 vaccines as early as Sept. 1, pending full Food and Drug Administration licensure, Army Times has learned.

"Commanders will continue COVID-19 vaccination operations and prepare for a directive to mandate COVID-19 vaccination for service members [on or around] 01 September 2021, pending full FDA licensure," the order said. "Commands will be prepared to provide a backbrief on servicemember vaccination status and way ahead for completion once the vaccine is mandated." -Army Times
That means, based on all of the information available, that full approval will happen sometime this summer.  Once that does happen, we had better be prepared.  If you don't want to take this shot even after it's been fully approved, you had better at least be moderately prepared.  Especially because we do not know yet exactly what the purpose of this shot is. All we have is speculation based on individual accounts and connecting the dots.
The media won't tell us the truth and neither will any ruler, red or blue makes no difference at this point. Keep your critical thinking skills sharp and stay alert. We will most likely see FDA approval in the next 8 weeks and mandatory vaccines really being pushed in the fall.
Happy dependence day, slaves. The rulers have decreed we will all take the shot. The illusion of freedom is long gone. It's time to face reality. Government is slavery and we are delusional if we believe otherwise.