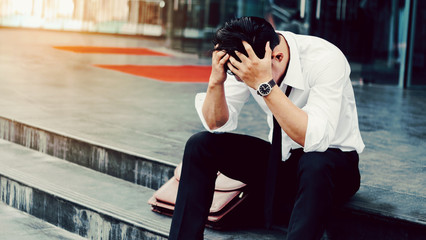 The bad news is that a recession is most definitely coming, and likely to be global, as the "everything bubble" cannot continue to inflate forever without consequences.  However, the good news is that you have time to prepare yourself for the financial collapse.
Big insurance companies are joining others in saying we are going to experience a recession.  But they also claim we have one year or so before it really gets ugly, so the time to prepare is now, according to a report by Barron's. The survey, which assessed the opinion from 307 insurance company investment chiefs and finance heads, responsible for $13 trillion, found that 35% cited an economic slowdown and a United States recession as their top worry, up from 24% last year.
And their fears are not unfounded. Earlier this month, amid signs of a slowing global economy, the International Monetary Fund downgraded its 2019 forecasts. Insurance companies said growth concerns are the highest risk to their investment portfolios, according to the annual survey of their views from Goldman Sachs' asset management division.
"Insurers predict a US recession is coming, just not this year," said Michael Siegel, head of Goldman Sachs Asset Management's business running money for insurers, according to Barron's. "As a result, they are continuing to commit capital but are more selective in the risks they are taking."
A whopping 82% of those surveyed, said they expected this economic downturn to happen in either 2020 or 2021, and a U.S. recession is "not a 2019 event", Goldman said, with only 2% of its respondents predicting economic reversal for this year. Based on the fact that 2020 is an election year, the recession could very well be pushed into 2021, giving those still unprepared a chance to get their finances together before that time.
There is honestly very little any of us can do, unfortunately.  Voting won't help as cutting government spending isn't the way to get oneself elected as a political overlord. As Michael Snyder pointed out recently on The Economic Collapse Blog, individually, there is very little that we can do about our national debt, state and local government debt or corporate debt.  We can try to vote people into office that want to do the right thing, but unfortunately, fiscal responsibility and financial reform are not hot button political issues right now.
Snyder added that what we can do is get our own financial houses in order.  Now is not the time to take on more debt, and paying off any debt that you have already accumulated would be a very good thing when the debt-based economy comes crashing down around us.
Although it may seem like a difficult task to undertake, the paying off of debt and choosing to no longer rely on credit, it can be done.  A great resource is Dave Ramsey's "The Total Money Makeover."  This book is a sort of easy to follow pseudo-tutorial of how to work your way toward financial freedom and personal wealth.
The best time to prepare for the inevitable debt-based system's collapse is before it actually happens.  There may be adequate warnings this time, and we know that those who are prepared have a much better chance of making it through a recession unscathed than those who do not.