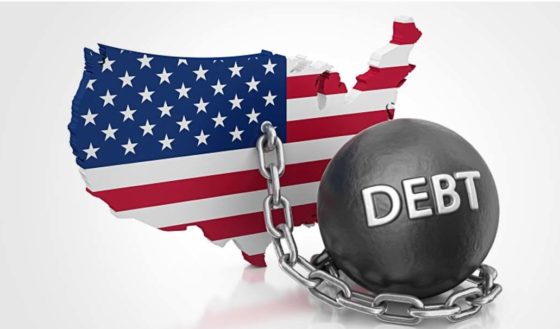 More and more Americans are getting themselves into so much debt that it becomes impossible to pay back their loans. In the month of July, there was a 5% increase in the number of bankruptcies filed in the United States.
Bankruptcy petitions for consumers and businesses are on the rise. While the rise seems "slight," this could be a glaring sign that the "everything bubble" is going to pop. According to Market Watch, there was a 5% monthly increase in total bankruptcy filings in July 2019, the American Bankruptcy Institute said this week. There were 64,283 bankruptcy filings, up from 62,241 for the same period last year.  And the year totals are shaping up to be much worse.
In a "booming" economy, this is worrisome. Far too many Americans are spending way too much more than they make. There were 452,797 filings in the first seven months of 2019, up from 450,568 during the same period last year. There were roughly 1,000 more consumer bankruptcies at this point this year, compared to the same point last year, the organization added. This rise in bankruptcies is coming off a ten year low.
Southern states seem to be affected the most as well, according to Market Watch. Alabama had the highest per capita rate, with 5.61 filings per 1,000 people, followed by Tennessee (5.39) and Georgia (4.31), Mississippi (4.25) and Nevada (3.79).
There were more than 770,000 bankruptcy filings in 2018, down from 1.6 million in 2010 – the aftermath of the Great Recession. "Congress recently passed legislation that will provide better access to the financial fresh start of bankruptcy for struggling small businesses, veterans, and family farmers," said Samuel Gerdano, ABI's executive director.
https://www.shtfplan.com/headline-news/25-of-americans-are-worse-off-than-they-were-before-the-great-recession_06172019
Not only are 25% of Americans worse off than they were before the Great Recession, but many others are also using credit to buy essentials, such as food. Millions more people are buying essential goods and services on credit. Consumers had $14 trillion in household debt (and rising) in the first quarter of 2019, according to the Federal Reserve Bank of New York data. That is up from approximately $13 trillion in debt consumers held back in 2008.
If you would like to get out of debt and live a more financially free lifestyle, try Dave Ramsey's plan.  His method of debt elimination is second to none.
By now, you've heard all the nutty get-rich-quick schemes, the fiscal diet fads that leave you with a lot of kooky ideas but not a penny in your pocket. Hey, if you're tired of the lies and sick of the false promises, take a look at this—it's the simplest, most straightforward game plan for completely making over your money habits. And it's based on results, not pie-in-the-sky fantasies. With The Total Money Makeover: Classic Edition, you'll be able to design a sure-fire plan for paying off all debt—meaning cars, houses, everything!