Editor's Note: Finding the perfect relocation or emergency bug-out property is unique for every individual and family. For some, the idea of leaving the United States is difficult to stomach, but thousands of people do it every year with success. The option is certainly one to consider, especially if you are looking for a more hands-off government, lower taxes, and a change of scenery. One of the oldest expatriate destinations for Americans is the Central American country of Cost Rica and it's the topic of this week's Strategic Relocation Briefing from well known survival retreat expert Joel Skousen. While the beaches are lovely and the prices make relocation financially feasible, there are also some important considerations that need to be made before you decide to leave your home country.
Whether you ultimately decide to expatriate or prefer to stay in the United States, the tools available at StrategicRelocation.com can help make your transition easier. With new For Sale By Owner home and property listings weekly, it's a great starting point to help you find that perfect home or retreat.
---
Weekly Strategic Relocation Briefing
by Joel Skousen, author, Strategic Relocation and The Secure Home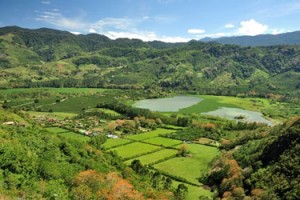 This week, we are going south of the border to examine one of the oldest of the expatriate destinations in Central America: Costa Rica —located between Nicaragua to the north and Panama to the southeast.
Expatriates have also been particularly attracted to Costa Rica because of its political stability, relatively low cost of living and low property prices, but now with over 50K Americans in the country, all that has changed.  Prices are much higher and real estate is no longer cheap. Still there are advantages and Americans keep coming. The national health care system is modern and low in cost with affordable health insures for around $200-$300/mo. Expatriates are exempt from tax on overseas income, and there are lower property taxes than in the U.S. and no capital gains taxes. Costa Rica also offers generally drinkable tap water, "high-speed" Internet (that actually isn't very fast) and good phone service. Taxis and buses are abundant and not too expensive, but beware of being charged extra by Taxi drivers who see a gullible foreigner.
On the downside, Costa Rica is very humid in the lower altitudes, which always produces a lot of insects and bugs—so, naturally, the better places to live are at the higher elevations. While there are no taxes on foreign retirement income, gasoline in this country is expensive at more than $5 per gallon. There are also a lot of home break-ins and property theft, though not a lot of violent crime (murder rate low). There is, as in all Latin America, a good deal of corruption in government, police and business. Unemployment and poverty are high among the less educated. But wages are low, so hired help is cheap.
In Pacific beach towns, you can expect to pay $4,000 a month or more to live on the beach. You have to get away from the favorite American hangouts in order to get reasonable housing. A persistent problem all over Costa Rica is "Gringo Pricing" —(especially high prices for Americans), and unless you are fluent in Spanish and know what the real prices should be like for the locals, you'll be taken advantage of on a regular basis.
A lot of Americans complain about everyday "Ticos" (what Costa Ricans call themselves) being liars—that you can't trust what they say. Part of the problem is endemic to much of Central America—the lack of precision in their expectations about everything, including verbal responses to questions. In other words, it's almost impossible to pin anyone down about a certain price, procedure, or direction to get somewhere. It is very frustrating to get 5 different answers to a precise question and then see those answers change the next day. It's not necessarily pernicious, as much as sloppy mental thinking habits and a lack of commitment to being precise and correct. The higher classes however, are a lot better at accurate communication and keeping commitments.
Most expats live on the coast or in more rural areas of the Central Valley.  Here are a couple of specific locations to recommend:
San Jose: (about a million people in the metro area) is the capitol of Cost Rica—rich in culture, commerce, and expensive housing for the wealthy. It has the best shopping and dining possibilities in this nation the size of West Virginia, and you have a full choice of imported (more expensive) items found no where else in Costa Rica. There are also a lot of amenities that Americans are used to like health clubs and movie theaters, jazz clubs, art festivals, and museums.
The City starts at 3,000 feet in altitude and has even higher hills surrounding the city.  So, despite its tropical latitude, it has a very temperate climate—rarely hot, and never cold.  Buying good housing in San Jose is expensive but renting is cheaper.  As one expat wrote in International Living, "A large two-bedroom house perched on a hill in San Antonio de Escazú is $450 a month unfurnished. One of the highest points around San José, it offers amazing views of the entire metro area. A high-end three-bedroom condo near the best shopping in Escazú is $875 a month unfurnished."  Security is pretty good in peaceful times in the suburbs and middle class areas of San Jose—but there are a lot of poor areas, as in any Latin American city that you don't venture into at night.  But don't expect these conditions to remain in a major crisis or world war where masses of people will be out of work and tourism dries up.  Best to be very rural when that happens.
Atenas: This is a town of about 5K people in central Costa Rica with very moderate temperatures due to the higher elevation—about 60 and 80 degrees year round. Many expats live up in the rolling hills near town, with homes that overlook the region's patches of emerald forest and sprawling sugar cane and coffee plantations, as well as cattle ranches and orchards. The city center is small and quaint—about six square blocks surrounding the typical central plaza and park, with a handful of cafes and restaurants. It's very centrally located, some 45 minutes from the beaches on the Pacific and a half-hour from San Jose, the capitol.  San Jose is where all the action is, but most expats prefer the cheaper and slower lifestyle in the smaller towns.  When they want shopping malls, theater, museums, major hospitals, they come to San Jose.
Nosara:  This is a beach town on the Pacific of about 5,000 people, but away from the big tourist destinations.  It is an older, planned community that has never been targeted by the major developers.   A good portion of the area is protected forest, and the Ostional Wildlife Reserve marine park is fairly close. As with all beach towns, it's more expensive than it's rural neighboring towns, but much less expensive than many coastal towns in the US.  The average coastal property rents for about $2,000 a month.  The down side is the distance to San Jose and any major hospitals—a five-hour drive—but you have to get that far away to get decent housing prices near the beach.  The nearest international airport is a two-hour drive.
San Ramon:  This city of about 15k is a cultural center and university town, away from the hustle of San Jose—about an hour's drive away. San Ramon is home to the University of Costa Rica—the top university in the country—and a couple of museums. It's a regional center for the area so you have the full range of commercial facilities as well as cultural opportunities including a symphony, orchestra, and movie theaters. San Ramon is also about 45 minutes from the Pacific beaches.
There are two basic types of residency in Costa Rica:
Residency for Pensioners or Retirees (Pensionados or Rentistas). If you earn $600 per month from your pension, or $1000 a month from your investments you can qualify for these permits.
Residency for investors (Inversionistas). If you invest in a local business in Costa Rica, according to the Center for the Promotion of Exports and Investments (PROCOMER), the current priority investment areas of business are ornamental plants, leather articles, spices, fruits and vegetables, processed foods, wood products and tourism. You will be required to invest at least $50,000 US dollars in one of these areas. If you prefer an area of investment not listed by PROCOMER, you must invest $200,000 US dollars in that business.
Costa Rica is still one of the safest in Latin America, especially compared to Guatemala and Mexico where crime and kidnapping is a real problem for foreigners.  But don't ever make your decisions about going south based on current expat experiences as extolled in all the many expat web sites.  This won't last.  Every country in Latin America has a lot of Marxists and people who hate Americans—and many of them are in academia, the press and the bureaucracies.  Someday when tough times hit, and Ticos look for people to blame, and the government looks to "tax the rich" the foreign expats will be a prime target.
In summary, my basic recommendation is, enjoy it while you can but don't buy land—rent—and don't burn all your bridges back to the states.  It is also harder to get a foreign bank account in Latin America due to FATCA bank reporting requires which the IRS is imposing all international banks that want to do business with the States.  So, even if you can get an account, keep only 2 or 3 months reserves in it and use ATMs to transfer money directly from the states.  And, use ATMs only in established banks.  Many insecure or outdated ATMs are subject to theft and hacking of your account back home.  Your other foreign compatriots can advise which ones are safe.
Best, Joel Skousen.
---
Be sure to check out all the new survival/rural property listings on www.StrategicRelocation.com. Over a dozen in Costa Rica and more from Southern Idaho/Wyoming, a Missile Base in North Dakota and last but not least the first 10.0 rated property by Joel Skousen, the Ozark Mansion Fortress.
SRC: If you decide to relocate and purchase property in Costa Rica, it's fairly easy to find property that has multiple sources of water and alternative energy production, in a wide variety of price ranges from $99,000 all the way to $1.5 million US. The property characteristics range from massive fresh water springs, streams and rivers some with gigantic waterfalls with enough hydropower capability to power multiple homes, to excellent sun exposure for an Iron-Edison Solar system.
There are really no real estate laws and regulations in Costa Rica, which is a nice change from the sometimes-draconian nanny state laws here in the US. However, this does lead to some issues, so many of the top franchises in the US have opened offices in Costa Rica bringing best practices to the local real estate business. But, many of the best properties are still sold from local to local or to ex-pats that have been in country for many years and understand the market. If you are serious about making your relocation please contact me directly and I will personally refer you to a trusted contact. Please be aware that 'serious' means providing proof of funds and booking your tickets. No palm tree kickers allowed.
With Gratitude, Todd Savage