This week's strategic relocation briefing from Joel Skousen takes us to the Lone Star State. Well known for its Second Amendment freedoms, expansive landscape, good hearted people and die-hard liberty lovers, those looking to relocate may find Texas to be an optimum final destination for a home or retreat. The business climate in the state has always been welcoming and advantageous, as has the cost of living, which is far lower than states like California or New York. But, like any retreat area in the country, it is not without its drawbacks.
Whether you are looking at Texas as a possibility or not, the following analysis from Joel Skousen guides you through the pros and cons of finding that perfect homestead and highlights key considerations such as metro areas and their suburban extensions, water availability and future trends as they relate to population growth. All of these points are essential to making the right decision.
If you have any questions about Texas or another retreat locale you can always contact the good folks at Survival Retreat Consulting (SRC) to help provide some guidance. When you're ready to start searching for a home or retreat take a look at the Strategic Relocation For Sale By Owner web site – you'll find nationwide listings, prepper-minded search tools and property survival ratings.
For insights on other areas of the country (and world) we recommend reading previous Strategic Relocation Briefings from Mr. Skousen. They are chalk full of incredible information that you'll most certainly find helpful.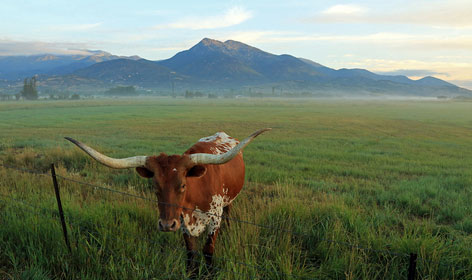 (Pictured: A Longhorn enjoys the expansive landscape in Texas Hill Country.)
---
Strategic Relocation Briefing: Eastern Texas
By Joel Skousen
Author, Strategic Relocation and The Secure Home
Texas is a very large state with more than one climate and geography—very dry in the West and humid in the eastern part from Tyler down to Houston.  This week, I'll cover east Texas as a Strategic Relocation destination.  But first we'll cover some of the pros and cons of living in Texas as a state.
Climate:  Texas has a wide range of climate because of its size. Since it is located in the south central part of the continent, it experiences the effects of two dangerous air masses, Canadian cold air and the Gulf of Mexico's warm, moist air, which often collide over Texas causing huge thunderstorms and tornados.  Eastern Texas has a Gulf Coastal climate with more rain than west Texas, lending to its pine forests, deep soil, and good growing conditions.  Texas gets a lot of sun so solar potential is good in the East and excellent in the drier West.
Population density is well below average in rural Texas (about 35 ppl/sq. mile), and above average within 50 miles of all the major cities.  Overall, the cost of living in Texas is the 6th lowest in nation, partly owing to its lack of an income tax.
Only 2% of Texas is government owned (State and federal), however, building permits are required state wide. Water Quality is good, except in urban areas (where 66% of Texas' water supplies are fluoridated).  Stay some distance from large commercial farms where extensive fertilization of crops and spraying of chemicals takes place.  Air pollution is not a big problem in Texas except in the major cities. Traffic is only a big problem in Houston and Dallas/Ft, and to a lesser extent in Austin and San Antonio.
Texas is a conservative state although the large cities always tend to favor more liberal policies and the social welfare state—owing mostly to the liberal mainstream media, which dominates all large metro areas.  Corruption in Texas government and police is very high, including the metro level. The "good ol' boys" network is a source of pride among all levels of power in Texas.
Gun liberty is pretty good in Texas. State law does not require a permit to purchase firearms, but is required to carry concealed (a "shall issue" if you meet the requirements.). Open carry of a handgun is not permitted except on your own property, but long guns are allowed in open carry in rural areas. Alternative Medicine is allowed with the full range of natural health practices. Home Schooling is nearly unfettered with the state which requires no notification, nor test scores.
Overall, I rate Texas pretty high except around the major cities. But in the long-term my assessment of Texas will always be diminishing due to the flood of illegal immigration, accompanied by crime, welfare dependency and socialist political trends—all of this encouraged or tacitly encouraged by the globalist multicultural conflict agenda guiding the current administration. Sadly, conservative Texans are easily fooled by politicians who talk and walk like traditional Texans and who say what conservatives want to hear, but are in league with powerful and corrupt national forces which intend to subvert traditional values in this once great state.
In general, because of the sheer size of this state, you can find medium-term safety in most rural areas away from the Mexican border and enjoy a fairly low cost lifestyle—at least for the present.  But, keep in mind that many areas of Texas, especially in the humid Gulf Coast, cities like Houston have only grown large due to air conditioning.  Without it life is pretty miserable during the summers.
All of the major metros in Texas are too big to survive social unrest in a major crisis, so you should plan on a rural retreat—and those should not be toward the south where the influx of immigrants are already becoming the majority.  If you must live near one of the large metro areas, you should locate in the suburban towns on the outer ring of any metro area. And within those suburban towns, you should also be located near the least populated segments leading away from cities. For, example, if you're in the middle of suburban Plano or Garland, you will have a hard time escaping the traffic generated locally, not to mention what is being generated deeper inside the Dallas metro area. Remember, if you can't get out quickly, you might as well stay put—don't get stranded on the freeways or roads.
In the Dallas area/Fort Worth area, your best retreat sites are further East into the pine forest country of East Texas and northwest (toward the small towns near Witchita Falls)—but in this case, you can't get West without first going north.  In the Houston area, you want to locate on the periphery in a northerly arc, centered around Spring Texas.  You best retreat sites are NW into the pine country of East Texas.
East Texas:  This is the beautiful pine country near the Louisiana border and the Gulf Coast.  It is generally defined by the east side of I-45 going north to an imaginary line going further north from Fairfield to Greenville on I-30 and then East to the border.  This area encompasses the outer ring of suburban cities around Houston, along the Gulf Coast to Port Arthur and includes all the small towns going north to Tyler Texas.  There are lots of good rural sites around the towns of Athens and Palestine, but most any rural area in the pine country will do.
Naturally, the Gulf Coast portion of this area within 25 miles of the water is not recommended due to the threat of Hurricanes.  This is a huge area where one can find mild weather, good water, rural farmland clearings and down to earth people.  However, keep in mind that the towns closest to Dallas and Houston will eventually receive a lot of refugees; so keeping to the central zone around the Angelina National Forest will give you the most buffering distance.
One of the big advantages of East Texas over West Texas is better soil depth and the ability to build basements without dealing with the notorious Caliche hardpan out West.  Wherever you decide to relocate to, be sure and check the listings at www.strategicrelocation.com.  Todd Savage, who runs the website has a great deal of expertise in preparedness property.
Survival Retreat Consulting, Todd Savage, on Bugging Out to your Retreat: There are some emergencies that call for drastic measures. We could go through a whole list of emergencies, but you'll know when the crap really hits the fan and when to employ certain measures. In Texas, as well as other metro areas with outlying suburban townships, getting out via vehicle can be a major issue. The following technique could be the best bet to get out successfully if you're caught off guard by a major event in and around major congested cities, especially when your timing and bug out route are compromised for whatever reason.
Emergency Bug Out Driving: Most volunteer Firefighter/EMT's or even reserve LEO's, probably have emergency warning lights installed in their vehicles. These come in handy when happening upon accident scene, et cetera, however they can be a Preppers best friend with the right type of vehicle, for that last ditch bug out.
Discreetly storing several Red or Blue (depending upon your jurisdiction) inside mounted LED light bars, the ones with window suction cups (about 10-12 inches in length each, for easy storage) can be used to move through traffic, possibly, if the conditions are right.
Will this work with your swagger wagon (Mini-van?), I highly doubt it, but those with Suburban's and other SUV's may look into this as a viable option, especially white, black and red colors. Could you go all out and install a siren and make magnet signs for a Fire Department or whatever, even going so far as making a uniform? Sure, but remember this is only to be used in that major TEOTWAWKI event, as there is certainly jail time awaiting you for actually impersonating an emergency worker.
Would any of this matter if you used this technique during a nuclear, biological or EMP lights out event? I doubt it. These items can be purchased easily online and stored for that rainy day. Most likely these are items that you may have never thought about needing to put in your bug-out bag, but they could be that thin margin between life and death.
Texas is spectacular for Solar alternative energy systems. The number one upgrade that almost all of our clients complete within the first year of making their Strategic Relocation is upgrading their retreat home with alternative energy. Besides abundant Water, energy creation is next in line.
I spoke with Brandon and Maggie, our friends over at Iron Edison Solar this morning. They have announced the new 300Ah USA made Series battery.  This battery is rated for 30 years or 11,000 full discharge cycles! SRC highly recommends the Iron Edison battery to all of our consulting clients.Mention this article or SRC to get 10% off your order!
Strategic Relocation Realty from the American Redoubt, is looking for several Prepper Realtors in the Texas area to bring aboard as referral brokers. If you know of anyone that would qualify to represent your fellow Prepper in a real estate transaction (Discrete, Knowledgeable, Honest and a Prepper, of course), please email us his or her information. Thank you, Todd Savage
This article has been generously contributed by the Strategic Relocation web site. Contact Survival Retreat Consulting for any questions you may have about Texas or other retreat locations in the United States or around the world.