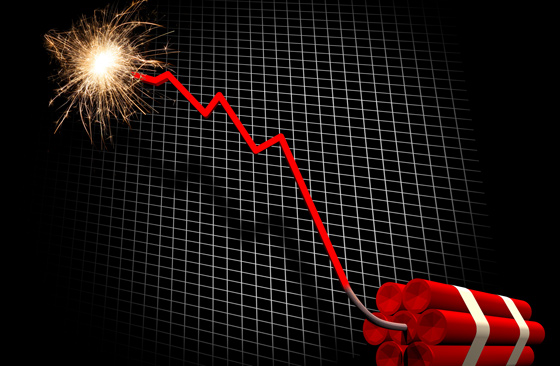 Many analysts have predicted an economic crisis is just over the horizon. Could the stock market's recent plunge be the recession they've said is long overdue?
The drop amounted to just a 4.6% drop, which doesn't seem like much; but it's the biggest decline since August 2011, during the European debt crisis. But it was nowhere close to the destruction on Black Monday in 1987 or the financial crisis of 2008. Still, for investors watching the steady upward climb since Election Day, it was alarming. The plunge pushed stocks closer to what's called a correction, or a 10% decline from their most recent high point. The S&P 500 is down almost 8% from its all-time high.
Although stocks went into a freefall yesterday, the Dow had been down 1,600 points.  A small rally recovered some of the losses. According to CNN Money, the rout in U.S. markets continued to ripple around the globe. Japan's Nikkei index plunged 4% in Tuesday morning trading while the S&P/ASX 200 in Australia dropped 3%. The recent sell-off wiped out the Dow and S&P 500 gains for the year and left the Nasdaq barely in positive territory for 2018.
The trouble in the market began early last week when investors began focusing on a number of lingering concerns. If the economy gets much stronger, it could touch off inflation, which, according to CNN, has been mysteriously missing for the nine years of the post-crisis recovery. But Peter Schiff has begged to differ, saying that the United States has not experienced a "growth story" but an "inflation story."
"People are dealing with the shock of seeing real inflation for the first time in a while," said Bruce McCain, chief investment strategist at Key Private Bank. Investors have also been nervously watching the bond market, where yields have been creeping higher. But many analysts claim the next recession will begin in the bond market. As yields rise, bonds offer better returns, which makes them more attractive to investors compared with risky stocks.
https://www.shtfplan.com/headline-news/peter-schiff-warns-of-crash-everybody-is-going-to-get-wiped-out_12062017
Stocks sank throughout the day, then went off a cliff in the final hour of trading. The Dow was down 800 points at 3 p.m. Within minutes, it was down 900, 1,000, and then 1,500 points. At its low, the Dow was down 1,597 points, before buyers rushed in and limited the decline.
The White House said in a statement that President Trump was focused on "our long-term economic fundamentals, which remain exceptionally strong." The statement cited strengthening economic growth, low unemployment and increasing wages for workers.