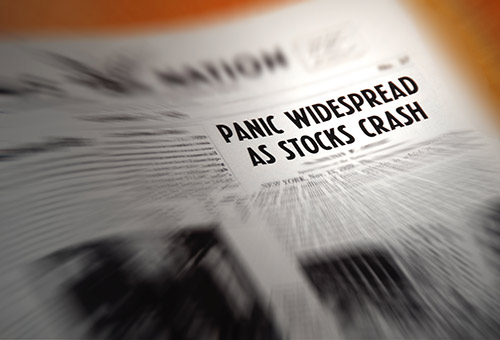 Friday's huge drop in the stock market is being attributed to market worries that the timeline for QE-free money is rapidly coming to an end, and that a rate hike could bring the economy screeching to a halt.
But while the Fed may consider raising rates, it is much more likely that they will put off a rate hike once again.
Why? The timing.
via the WSJ:
Stocks and bonds tumbled Friday, with the Dow industrials and S&P 500 posting their biggest percentage losses since the Brexit selloff.

The Dow Jones Industrial Average fell 394.46 points, or 2.1%, to 18085.45, and the S&P 500 declined 2.45%, marking the biggest one-day declines for the indexes since late June when a selloff followed the U.K.'s vote to leave the European Union. The Nasdaq Composite lost 2.5%.

Fresh signs that central banks could be backing away from easy-money policies helped boost the dollar, while investors sold shares of dividend payers like utilities and telecommunications companies that have been popular with income-seeking investors while rates have been low.

[…]

Federal Reserve Bank of Boston President Eric Rosengren, who has in the past advocated for keeping rates low, said Friday that "a reasonable case can be made" for tightening interest rates to avoid overheating the economy.

[M]ost investors still don't expect a rate rise in September… In September, "there's an outside chance the Fed will make a meaningful statement or action," said Ninh Chung, head of investment strategy at SVB Asset Management, but "markets still react to almost every word a Fed official puts out."

Both in Europe and in Japan, "we just assumed central banks would push the quantitative easing button when things got bad again, but it seems we've reached the limits of that."
The problem-reaction of the move is likely to cause some major pain – popping the bubble of easy credit that has been ongoing since the wake of the 2008 financial crisis.
If/when easy credit is cut off, debts come due and it becomes crunch time. That will be an extremely difficult period for many individuals, governments and institutions who've been extending exposure to get by.
That's when bankruptcy and default will become contagious. Just like in musical chairs, the gig will be up for those who haven't figured it out in time.
In terms of the political impact of monetary policy, Janet Yellen and the Federal Reserve don't want to take a chance on unleashing a downturn that could boost Trump in response.
Nevertheless, the action, in monetary terms, is long overdue.
Experts believe that if the bubble pops on Obama's watch before the election, it will hurt Hillary's chances – clearly the status quo favorite – for obtaining the presidency.
Thus, the establishment bankers are expected to put it off another day… and likely reschedule the collapse of the economy for after the election – effectively hiding the devastating effects of an 8-year charade in "recovery" that has nearly ruined middle and working class America.
The powers that be don't want Obama's failure to become political fodder to motivate voters – yet another aspect of fraud in our electoral system.
Whatever the timing, it is vital that you and your family prepare for the rough times ahead – loss of income, mass employment and the collapse of society into civil unrest are all becoming increasingly uncomfortable possibilities.
Read more:
Janet Yellen Is Choosing the President: Rate Hike Would "Give Trump the White House"
Trump Accuses Fed of Not Raising Rates Because Obama "Doesn't Want a Bubble Burst" Until He Leaves
The Bubble Will Burst, But Fed Is Waiting For Politics "With Trump Lurking Around"
Ron Paul: Unless the Fed is Stopped, America Will "Soon Experience Major Economic Crisis"
"Fed Risks Triggering Panic and Turmoil": World Bank Warns Against Raising Rates