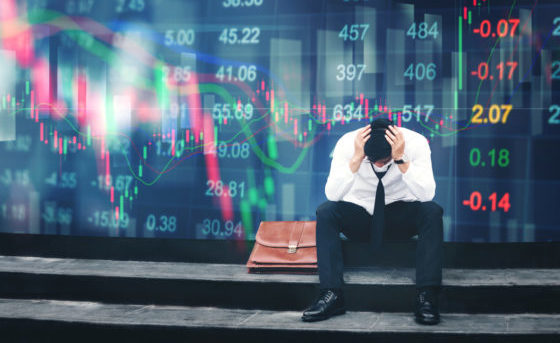 Monday was the worst Christmas Eve stock trading day in the history of the stock market. Now investors are bracing themselves for what could be a market crash just before the New Year.
According to Market Watch, in a shortened Christmas Eve session Monday, the Dow Jones Industrial Average slid 653.17 points, or 2.9%, to 21,792.20, marking its lowest close since Sept. 7, 2017, while the S&P 500 index fell 2.71% to 2,351.10, its lowest since April 21, 2017. The Nasdaq Composite Index tumbled 2.21% to 6,192.92, its lowest close since July 10, 2017.
Last week was also the worst week of trading since the recession as the Nasdaq officially entered bear-market territory on Friday, and is now off 23.6% from its record close set August 29 of this year. The S&P 500 is down 19.8% from its September 20 record close, and the Dow has slid 18.8% from its October 3 record close.
Market Watch further reported that Monday's dramatic session came after Treasury Secretary Steven Mnuchin tweeted that he had spoken with the CEOs of the country's six biggest banks to assess the health of the banking system, raising concerns that the administration knows something the market doesn't.
Today I convened individual calls with the CEOs of the nation's six largest banks. See attached statement. pic.twitter.com/YzuSamMyeT

— Steven Mnuchin (@stevenmnuchin1) December 23, 2018
Many investors seem to think this "everything bubble" is slowly deflating now, however, a violent pop could shock the markets too. "I'm watching the U.S. economy implode from the beach," Peter Schiff told MarketWatch during a recent phone interview from a beach in Puerto Rico. "We're in a lot of trouble," he said.
Citing a source close to the White House, CNN reported that Mnuchin could be in "serious jeopardy" from an increasingly frustrated President Donald Trump, who has been publicly supportive of his top cabinet member. Mnuchin supported the appointment of Jerome Powell as chairman of the Federal Reserve, whose monetary policy decisions have come under repeated criticism by not only Trump but those who are attempting to pay their debts back. Even though CNN reported Mnuchin was in "jeopardy", the conflicting news outlet also stated that a White House source told CNN that Mnuchin's job was not on the line.
"They're raising rates too fast because they think the economy is so good. But I think they will get it pretty soon. I really do," said Trump in his Christmas message on Tuesday, of the Federal Reserve, the United States' central bank. Some blamed accelerated losses on Monday on a tweet by Trump, who blamed the Fed for the stock drop – and in this instance, Trump is correct.  The Federal Reserve is responsible for every single recession and depression in American history. Along with help from the government, band-aids get put on wounded economies that require tourniquets.
But then Trump immediately claims the trade war is "necessary" while knowing the American consumer is paying the cost for it. With rising cost of goods and services thanks to the trade war, and the rising cost of servicing debts, Americans are being backed into a corner.
https://twitter.com/realDonaldTrump/status/1077231267559755776?ref_src=twsrc%5Etfw%7Ctwcamp%5Etweetembed%7Ctwterm%5E1077231267559755776&ref_url=https%3A%2F%2Fwww.marketwatch.com%2Fstory%2Fus-stock-futures-lower-as-market-readies-to-reopen-after-christmas-eve-meltdown-2018-12-26
The markets are certainly on shaky ground, but only time will tell how much longer things will remain "normal."