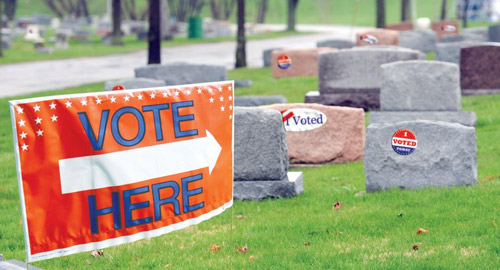 Most Americans truly believe that their election system is totally fair and above board. They scoff at the idea that our elections could be rigged (even though it's happened before), as if we were some tyrannical third world country. Perhaps the only time they will consider the possibility is if it could have effected whoever they voted for. Right now there are plenty of Democrats who think Russia hacked our elections, but they'll laugh at Trump's accusation that illegal immigrants stole the popular vote from him (which is very likely).
The truth is that our elections are seriously compromised, and not by the Russians. The latest example of this fact comes from California, where it was recently discovered that there are 11 counties that have more registered voters than eligible voters. According to a press release from Judicial Watch, a conservative watchdog group that caught these discrepancies, some of the numbers are truly mind boggling.
In the letter, Judicial Watch noted that public records obtained on the Election Assistance Commission's 2016 Election Administration Voting Survey and through verbal accounts from various county agencies show 11 California counties have more registered voters than voting-age citizens: Imperial (102%), Lassen (102%), Los Angeles (112%), Monterey (104%), San Diego (138%), San Francisco (114%), San Mateo (111%), Santa Cruz (109%), Solano (111%), Stanislaus (102%), and Yolo (110%).

In the letter, Judicial Watch noted that Los Angeles County officials "informed us that the total number of registered voters now stands at a number that is a whopping 144% of the total number of resident citizens of voting age."
What's also surprising is that out of those 11 counties, 10 tend to vote for the Democratic party, which is pretty suspicious when you consider the percentage of counties that vote Democrat. Out of California's 58 counties, 25 voted Republican in the last election, and 33 voted for the Democrats. So roughly 56% of California's counties vote Democrat, but only 9% of the counties that have this problem are Republican.
That strongly suggests that this is by design, and not an accident. It looks like officials in Democrat run counties are deliberately failing to remove people from the voting rolls who have either moved away from California or have died. And of course, the only reason anyone would do that is if they intended to stuff the ballot.
Fortunately this state of affairs may not continue for much longer. Judicial watch is threatening to sue the state if they don't fix this situation in 90 days. If that succeeds, then by 2020 we'll know if California's elections have been rigged with the help of stuffed voter rolls. These discrepancies are so large that by the next general election, California may be less of a Democratic stronghold, and more of a swing state.