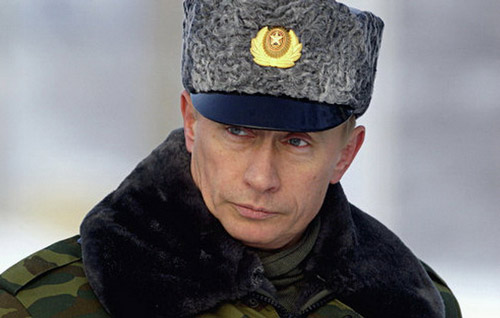 Russian President Vladimir Putin does not see the United States as an enemy, regardless of what the media is shoving down the throats of its ardent followers.  Putin is blaming "media hysteria" for the newest chilling of relations between the US and its former Cold War foe.
While Putin was speaking at his annual Q&A, where a self-described pro-Russian American asked how he could convince his fellow Americans that Moscow was not an enemy, he said that the two nations were allies in two world wars.  Putin also reiterated his assertation that the "anti-Russian sentiment" in the US is coming from internal political strife in America.
Putin said Russia has "many friends" in the US, although "media hysteria" has taken its toll on bilateral relations. Overall, Moscow believes US-Russia relations will return to normal.  Media hysteria is also taking partial blame for yesterday's shooting of Republican politicians at a baseball practice. US civilians are being subjected to media propaganda, and Putin isn't afraid to say it.
But Putin is also open to constructive conversations with the United States, something being hidden from those subjected to the media's fear mongering tactics.
We're open for constructive dialogue with America – Russian president https://t.co/6woRQr4lSl pic.twitter.com/9ZvUkXrpEY

— RT (@RT_com) June 15, 2017
Putin commented on the congressional testimony made by former FBI Director James Comey, who accused Russia of interfering with the US election but not changing any votes. It's "a good enough thing" Comey did not accuse Russia of interference in the vote count during the 2016 US election, Putin said. The president said Russia's influence on American's minds was no greater than that of America, which sponsors NGOs (non-government organizations) worldwide with a goal to influence countries they work in. In fact, here's some leaked audio of Hillary Clinton, which proves she does rig elections in other countries.
https://www.youtube.com/watch?v=j07fBirX7Wg
He also remarked that Comey's leaks to the media about his conversations with Trump put him in a vulnerable position.
"[Comey] suddenly said he recorded a conversation with Trump, and then handed the tape over to the media, which is strange. What's the difference between him and Mr [Edward] Snowden then? He's a human rights activist then, not an intelligence chief," Putin said. "At any rate, if this entails some kind of prosecutions against him [Comey], we are ready to grant him asylum in Russia. He should be aware of that," Putin added.
Putin's no-nonsense approach to "political schizophrenia" in the United States is bold.  He's taking on the media and their propaganda.  It's oddly ironic that the former Soviet Union is more accepting of leakers by offering them asylum than the "freest nation on earth." Putin could be onto something.