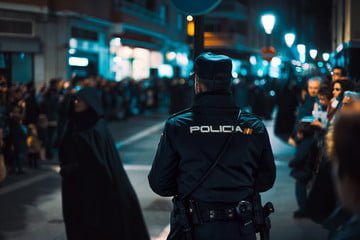 Reliable statistics on migrant-related crimes in Spain are unavailable because the data compiled by the Spanish Interior Ministry on specific categories of crimes (homicide, rape, robbery, etc.) do not break down the offenders by nationality. But what is known, is that the surge in migrant crime is a textbook case of political correctness run amok.
Despite the lack of official statistics, anecdotal evidence found in the crime reports of local newspapers shows that migrant criminality (ranging from petty theft to sexual assault to murder) is a growing problem nationwide. In Barcelona, for example, 15 members of a North African itinerant crime gang known as "Allah's Wolfpack" sexually assaulted a woman at a metro station. The migrants, some of whom are unaccompanied minors and all of whom are in Spain illegally, had long rap sheets and were well known to the police.
Normal everyday Spanish people are not nearly as safe as they once were thanks to policial correctness. The Madrid city council, which is run by Mayor Manuela Carmena, in a case study of political correctness run amok, ordered police to keep out of the neighborhood of Lavapiés, one of the most "multicultural" districts of the Spanish capital, to "avoid situations of tension."  Spain is well known for it's "progressive" immigration policies, but it just is not working.
Six African migrants gang-raped a 12-year-old girl in a small town near Madrid, but Spanish authorities kept information about the crime hidden from the public for more than a year, apparently to avoid fueling anti-immigration sentiments.

On March 15, 2018, the 12-year-old girl was playing in a park in Azuqueca de Henares with several other girls when, at around one o'clock in the afternoon, six migrants — five Moroccans and one Nigerian — approached the playground. They carried two of the girls off to a nearby abandoned building, but then let one of them go after discovering that she was a Muslim. The migrants, aged between 15 and 20, grabbed the 12-year-old by her arms and legs and took turns raping her, first anally and then vaginally, for nearly an hour.

The public was not informed about the crime until March 20, 2019, when the newspaper El Mundo published the results of an investigation. According to the report, Spanish prosecutors and judges secretly decided that three of the minors will be held in a young offender institution for three years and then be "reinserted" into Spanish society rather than be deported. One of the adults is being held in preventive detention; the other adults were released. –Soeren Kern via The Gatestone Institute.
*A detailed list of SOME of the horrifying migrant crimes committed in Spain can be found here. The above is merely one example.
To add salt to the political correctness wound they created, the police are having to deal with riots in Madrid. Hundreds of undocumented migrants from sub-Saharan Africa went on a rampage in Lavapiés (where police were ordered to stay away from because "political correctness" is more important than stopping a rape or murder), one of the most "multicultural" districts of the Spanish capital. The riots were the direct result of many years of extreme deference by Spanish officialdom toward illegal immigrants, and a sweeping failure to enforce the law, all, apparently, out of a fear of being accused of racism.
This is a textbook case of political correctness run amok.  And the United States could easily follow in Spain's footsteps. People have become too afraid to speak out against violence if committed by minorities out of fear of being labeled a "racist." This is where political correctness has taken Spain. Words are not violence.  Hopefully, humans start to figure this out and the logic returns to the planet in place of the feelings and censorship have completely taken over.
"Political correctness is America's newest form of intolerance, and it is especially pernicious because it comes disguised as tolerance. It presents itself as fairness, yet attempts to restrict and control people's language with strict codes and rigid rules. I'm not sure that's the way to fight discrimination. I'm not sure silencing people or forcing them to alter their speech is the best method for solving problems that go much deeper than speech." -George Carlin