Editor's Note: This report was originally published at The Daily Sheeple and should leave absolutely no doubt about the intentions of the upcoming Jade Helm 15 exercise. If you still believe this is about foreign threats and anti-terrorism then you haven't been paying attention. Our military is now actively and openly preparing to respond to an emergency or crisis on U.S. soil.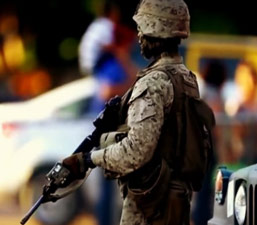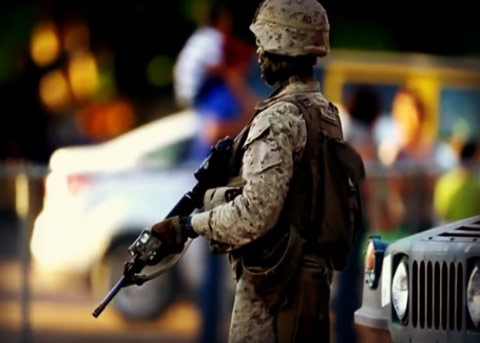 All the official lies about how Jade Helm is only meant for action overseas in some land far, far away have now been exposed. They are brazenly putting this tyranny in everyone's face.
The footage below, released by the Marines and reported on by Gary Franchi of the Next News Network, shows our troops training to take on dissidents right here on American soil in the lead up to the unprecedented Jade Helm 15 training drill coming this summer.
The video, shot by Sgt. Daniel Kujanpaa, shows Marines from 1st Battalion, 5th Marine Regiment, 1st Marine Division practicing "assault support tactics" on crisis actors in Yuma in a seven-week pre-training exercise leading up to Jade Helm as children look on.
"This footage is probably the most shocking documentation of FEMA camp roundup training to date: children used alongside actors in a bloody confrontation on American soil," Franchi reported.
How much more proof do you need? There's no conspiracy theory here, only conspiracy fact. Our soldiers are clearly training for martial law scenarios where they have to detain the American people right here in the U.S. in our own backyards.
But hey, they're just following orders, right?
Add this shocking footage to a bevy of military movement reports coming from concerned citizens all over the country.
In just one example, below a train moving through Snyder, Texas a few days ago appears to have over 100 pieces of heavy military equipment on it.
The video, uploaded by Youtuber Stacy White, is described as, "Sat may 16 train headed east beside highway 84 loaded with u.s. army equipment….and a bonus of an 18 wheeler headed west with an APC." One commenter asked, "Are those generators hooked to the hummers?" to which White replied, "Yes they was hooked up to them and notice the gun mounts on some of vehicles also for 50 cal."
50 cals, huh? Someone is really gearing up…
Sadly, the latter footage is not even remotely unique to the American landscape over recent weeks.
Why do we need all this stuff suddenly if it is just a simple drill for overseas action and nothing more?
Does this make you feel safer, America?
(H/T: All News Pipeline, Steve Quayle)
Delivered by The Daily Sheeple
Related Reading:
Texas Ranger Drops Jade Helm Bombshell: "There Are Trains With Shackles On Them"
Here We Stand, One Step Away from a Dictatorship: "The Groundwork and Foundation Have Been Put Into Place"
If Martial Law Comes to America "Dissidents and Subversives Would Be Rounded Up"
All Aboard the Auschwitz Express: "People Don't Want to Believe It"