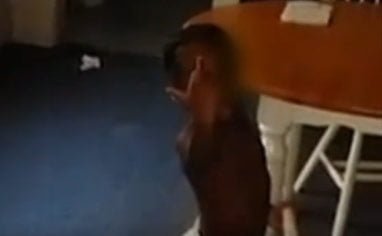 In a recent article author Michael Snyder discusses twelve signs of extreme social decay in America noting that our country is  "rapidly becoming a cesspool of liars, thieves, murderers, perverts and psychopaths."
If you've ever wondered how we've gotten here then take a look at the following raw video.
It was posted by the Omaha Police Officers Association as a public service message to their community:
Folks…this video is bad.

Really, really bad and it will make you angry.

It contains extreme profanity and discussion about adult situations and gang violence…and worst of all…a toddler.

Viewer discretion is strongly advised.

…

We here at OmahaPOA.com viewed the video and we knew that despite the fact that it is sickening, heartbreaking footage, we have an obligation to share it to continue to educate the law abiding public about the terrible cycle of violence and thuggery that some young innocent children find themselves helplessly trapped in.

Now while we didn't see anything in this video that is blatantly "illegal", we sure did see a lot that is flat out immoral and completely unhealthy for this little child from a healthy upbringing standpoint.

Listen to the discussions this child is immersed in.

-Sexual discussions

-Gang discussions

-Violence

-Profanity
The shocking video shows a two year old toddler with several caregivers in the room. A chair had apparently fallen over, prompting the child to blurt out a profane comment. Normally, a parent might correct or discipline their young child for such behavior, but as you'll see below this was not the case in this household.
The child raises his middle finger at one point and shouts comments like "You a bitch N*gga" and "You a ho." The adults in the room shout obscenities and racial slurs back at him, urging him to engage in the discussion by saying things like "F*ck you, N*gga" and "say suck my d*ck" in the hopes of receiving a response.
According to CNN, several people responding on social media sites claimed that the Omaha Police Officers Association's posting of the video had racial overtones.
The ACLU and community leaders have also objected:
Willie Hamilton, president of the community activist group Black Men United, said the union "crossed a line by doing this."

"For them to take a video out of context — a 2-year-old who doesn't have the brain capacity to know what's going on — and to say that this child, because two adults acted inappropriately, is going to end up in a life of crime is totally inappropriate," Hamilton said.
Though Mr. Hamilton argues that the video was taken out of context, to us the context seems pretty clear.
This is where the culture of thuggery and violence starts. They're not in this video making crafts or playing board games. They're cussing, referring to women as "bitches" and "hoes," and embedding the "thug" life and vernacular  into the child's every day experiences.
Though no one can predict where this toddler will end up 15 years from now, if these are his role models and daily experiences we think one could make a fairly accurate educated guess.