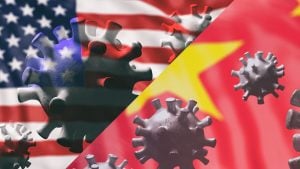 Cases of COVID-19 are surging in fully locked down Shanghai. So far, this lockdown has done nothing to slow the spread of the virus, so the ruling class insists on locking down harder.
The major Chinese financial center of Shanghai extended restrictions on transportation on Tuesday after a day of intensive city-wide testing. The city had new Covid-19 cases surge to more than 13,000, with no end to the lockdown in sight anymore. Out of 26 million, 13,000 people "tested positive".
According to a report by CNBC, the lockdown now covers more than 25 million people after restrictions in the city's western districts were extended until further notice in what has become a testing ground for the government's zero-tolerance "dynamic clearance" approach and its ability to contain the highly infectious Omicron variant.
"Currently, Shanghai's epidemic prevention and control is at the most difficult and most critical stage," said Wu Qianyu, an official with the municipal health commission, at a Tuesday briefing. "We must adhere to the general policy of dynamic clearance without hesitation, without wavering."
Thousands of Shanghai residents have been locked up in rudimentary "central quarantine" facilities after testing positive, whether they are symptomatic or not. This Chinese model of lockdowns, forcing people into camps, and "quarantining" seems to be popular in places outside of China.
Although, Dr. Anthony Facui actually said he thinks Americans should "assess" their own COVID risk and live with the virus. "This is not going to be eradicated, and it's not going to be eliminated," Fauci told ABC's "This Week." "And what's going to happen is that we're going to see that each individual is going to have to make their calculation of the amount of risk that they want to take."
This comes not long after he warned that Americans should expect more restrictions to stop the spread of COVID:
Fauci Warns Americans: Be Prepared For More COVID Restrictions
Did they finally get enough people to take the shots so they can release something else? Be ready for anything. They will not stop this charade until we start disobeying them out of power.