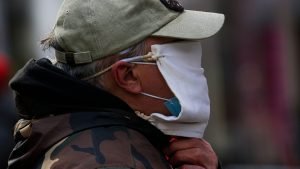 Dr. Anthony Fauci, the United State's head medical tyrant has declared that Americans should be prepared for more COVID-19 restrictions. Fauci said it's possible more restrictions are coming as the BA.2 omicron subvariant "rages."
"I don't want to use the word 'lockdowns.' That has a charged element to it. But, I believe that we must keep our eye on the pattern of what we're seeing with infections," he said, noting that the U.S. is currently moving toward normalcy. "Normalcy" with fewer rights, less freedom, and enslavement of mankind.
"Having said that, we need to be prepared for the possibility that we would have another variant that would come along," Fauci noted. "And then, if things change and we do get a variant that does give us an uptick in cases and hospitalization, we should be prepared and flexible enough to pivot toward going back – at least temporarily – to a more rigid type of restrictions, such as requiring masks indoor."
Knowing how wildly unpopular the lockdowns were among free-thinking human beings, Fauci is avoiding the term. Last week, Fauci said he did not expect another COVID surge. Now, it looks like the supreme flip-flopper has once again, changed his mind.
Fauci Flip Flops Again: Now Masks Aren't Needed Outdoors
Flip-Flopping Tyrant Fauci Says WE Are "Misinterpreting" The Muzzle Rules
Fauci warned that the "same conditions" that appear to be driving the resurgence of cases in Europe are happening in the U.S.  "It's the greater transmissibility of the BA.2, it's the relaxation of restriction, particularly in the context of indoor masking in congregate settings, and also the fact that immunity, due to both vaccination as well as people who have been previously infected, tends to wane with SARS-CoV-2 – particularly with omicron," he said.
If they can get away with another lockdown, they will try it. We all know this. We may not see it over this BA.2 scariant, but another one that they claim will be "deadly" and "spreading rapidly" whether that's the truth or not.
Dr. Anthony Fauci Owns A Patent On SARS-CoV-2 gp120 HIV Insertion
Fauci Returns To Panic The Masses About COVID Again
Be ready for anything at this point. If they attempt more fear, with the already destroyed food supply, the panic buying could begin and we all may need to be ready for a complete societal collapse. It is hard to say how far this will go and how much they push it until people snap.