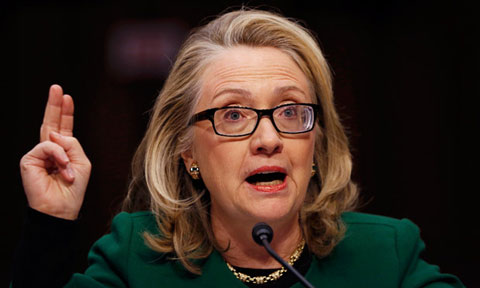 Classified intel on vulnerable, private email servers –what difference at this point does it make?
Email-gate, or whatever it is being called, is not over yet.
A hacker has purportedly obtained tens of thousands of emails that most thought were deleted, and is now offering them up to the highest bidder.
What secrets are encapsulated inside that e-treasure trove? It appears there are plenty of State Department secrets, and more than enough political dynamite to keep the 2016 race against Hillary rolling strong.
According to RadarOnline:
[A] person claiming to be a computer specialist has come forward with the stunning news that 32,000 emails from Hillary Clinton's private email account are up for sale. The price tag — a whopping $500,000!

Promising to give the trove of the former Secretary of State's emails to the highest bidder, the specialist is showing subject lines as proof of what appear to be legitimate messages.

"Hillary or someone from her camp erased the outbox containing her emails, but forgot to erase the emails that were in her sent box," an insider reveals to Radar of the Presidential contender's latest nightmare.
Apparently the cache of emails, previously believed to be deleted, but now up for auction include subject lines about Libya and Algeria, presumably during Hillary's controversial tenure as Secretary of State:
"H Libya security latest. Sid" (with attachment)
"H FYI, best analysis so far of hearing Sid,' about the latest security in Libya"
"H Algeria latest French Intel on Algeria hostage Sid"
"H Latest French Intel in Algeria hostage Sid" (with attachment)
"H Latest Libya intel internal govt discussions high level" (with
attachment)
"H HIGHLY IMPORTANT! Comprehensive Intel Report on (with attachment)"
Candidate Hillary has claimed that no classified information was contained in her private emails, but has since had to waffle backwards over eggshells as critics on all sides have picked apart her delicate position. Earlier in the year, Clinton stated:
"I did not email any classified material to anyone on my email," she said in March. "There is no classified material. So I'm certainly well aware of the classification requirements and did not send classified material." (source)
But the unidentified hacker selling off her controversial email stash is claiming that these emails – if released to the public – would not only end her chances of returning to the White House, but would compromise national security.
So much for no classified info.
Whistleblower extraordinaire Edward Snowden also just commented on Hillary's email debacle, noting that it was "completely ridiculous" for her to think that her private server was truly secure.
"This is a problem because anyone who has the clearances that the Secretary of State has, or the director of any top level agency has, knows how classified information should be handled," the former NSA contractor who leaked thousands of classified national-security documents said in an interview with the network's "UpFront" program.

[I]f a typical employee at the State Department or the Central Intelligence Agency "were sending details about the security of embassies which is alleged to be in her email, meetings with private government officials, foreign government officials and the statements that were made to them in confidence over unclassified email systems, they would not only lose their jobs and lose their clearance, they would very likely face prosecution for it."
So, with a presidential race that is projected to cost more than $2 billion, it would seem that 500k for a never ending pile of dirty laundry is quite the bargain.
Any buyers?