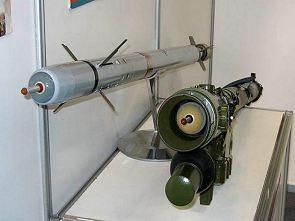 As rebels reportedly (again) overtake Gaddafi's forces in Libya, CNN and the Associated Press report that a warehouse in the region has been looted, and unidentified individuals have gained access to shoulder-launched surface to air missile systems:
A potent stash of Russian-made surface-to-air missiles is missing from a huge Tripoli weapons warehouse amid reports of weapons looting across war-torn Libya.

They are Grinch SA-24 shoulder-launched missiles, also known as Igla-S missiles, the equivalent of U.S.-made Stinger missiles.

A CNN team and Human Rights Watch found dozens of empty crates marked with packing lists and inventory numbers that identified the items as Igla-S surface-to-air missiles.

…

"We are talking about some 20,000 surface-to-air missiles in all of Libya, and I've seen cars packed with them." he [Peter Bouckaert, Human Rights Watch emergencies director] said. "They could turn all of North Africa into a no-fly zone."
According to reports, these are Russian made, advanced surface to air missiles capable of taking down military helicopters and planes, as well as commercial airliners.
Popular Mechanics indicates that there may have been in excess of 20,000 of these or similar types of missiles in Libya before NATO military action began. It is not known how many have disappeared. According to the report, commercial airliners are completely defensless (unless you're flying El Al, based out of  Israel, which has had defense capabilities for such threats for quite some time):
With the 10th anniversary of 9/11 nearly upon us, it's worth remembering that after the attack, Congress was ready to build greater defenses into commercial airliners, including jamming equipment to confuse missiles like Gaddafi's missing MANPADs. But after eight years of funding and no results, the White House quietly ended the program last year.
What we have here is a serious terrorist threat emerging. According to a wide array of reports available in mainstream and alternative news, it is clear that the no-fly-zone in Libya included 'rebel' foot soldiers on the ground – and many of those soldiers are reportedly either members of, or sympathetic to, elements of Al Queda. We now have missiles disappearing in areas where rebels have taken control. Once those weapons get out of Libya, they can easily make their way into Western Europe, and perhaps even the USA via drug cartel armament smuggling operations to Mexico.
These missiles can go as high as 11,000 feet. Plenty of altitude if you are trying to down a commercial airliner on take-off or approach. For those who would be interested in killing hundreds of people at a time and scaring the global public into a panic, this could be the perfect terrorist weapon.
While US government officials are taking steps to make it as difficult as possible for Americans to purchase handguns and semi-automatic weapons because they may reportedly end up in the hands of Mexican drug cartels, it's curious to say the least, that no one thought securing these warehouses in Libya was critical to safety and security. It's almost as if someone wants to enable extremists in the region with the weapons to wreck havoc on Western nations.