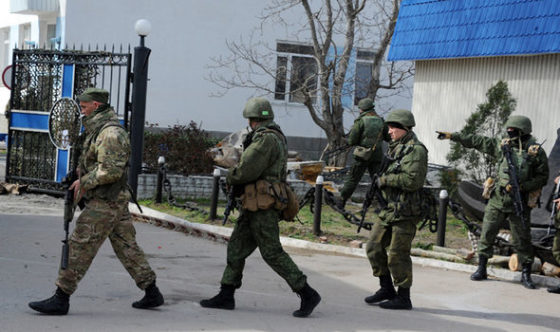 Russian troops are massing on the Ukraine border as the build-up to conflict and tensions continue to mount. As of right now, few analysts believe that Moscow intends to invade, but Russia's military buildup continues nonetheless.
Even though the mainstream media says that Russia does not intend to invade, they sure are looking as if they want to. Moscow is signaling more bluntly than ever before that it is prepared to openly enter the conflict, according to a report by The New York Times.
"These ships are, concretely, a threat from the Russian state," Captain Levytskyi said over the whir of his speedboat's engines as it plied the Azov Sea, after pointing out a Russian patrol boat stationed six miles offshore. "It is a much more serious threat."
Russia, for its part, has done little to hide its massive troop buildup, insisting that it has been placing troops in response to heightened military activity in the region by NATO and Ukraine.
 In the town of Avdiivka, the commander, Dmytro Kotsyubaylo says what happens next is a worst-case scenario. When asked point blank what he expects to happen next, Mr. Kotsyubaylo responded: "full-scale war."
Satellite images also show Russia's troop buildup, according to The Wall Street Journal.  Russia has moved warplanes to Crimea and bases near Ukraine to an extent greater than has previously been disclosed, adding to its capability for political intimidation or military intervention, according to commercial satellite photos of areas being used for the military buildup.
Biden Administration Ramps Up Tensions With Russia, Institutes Sanctions
Russia Warns US To Stay AWAY From The Black Sea For Its "Own Good"
Other Russian military units on the Crimean peninsula include airborne troops, motorized rifle and armored units, attack helicopters, smoke generators, reconnaissance drones, jamming equipment, and a military hospital, the photos indicate.
Even though the "experts" and "analysts" and mainstream media talking heads are telling us conflict is unlikely, there sure appears to be a buildup for some reason. Why amass troops if the goal is to not use them? Please stay alert and prepared for anything. This may still blow over, but it could also result in what the Ukrainian commander dubbed "full-scale war." And we know the Biden Administration is set to be neck-deep in any violent conflict in this region.