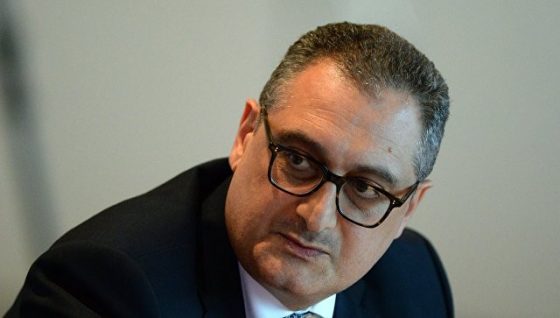 The tense situation over North Korea's nuclear program has one top Russian diplomat sounding the alarm. Russian Deputy Foreign Minister Igor Morgulov said that the world can no longer turn a "blind eye" to alarming speed with which North Korea is advancing their weapons of mass destruction.
North Korea's nuclear program could evolve into an "apocalyptic" scenario, Morgulov said.  He was speaking at the opening of the eighth annual Asian Conference of the Valdai Discussion Club, which is being held in Seoul, South Korea, CNBC reports.  "I hope that a common sense, pragmatism, and an instinct of self-preservation would prevail among our partners," Morgulov added.
The Russian diplomat's remarks come amid global concerns over North Korean leader Kim Jong Un's refusal to abandon his nuclear ambitions despite mounting international pressure. North Korea has conducted a record number of long-range missile tests this year, and in early September it carried out its sixth and most powerful nuclear test.
Tensions continue to heighten as Kim and President Donald Trump trade numerous threats and insults. Over the summer, Trump warned Pyongyang it would be met with "fire and fury" if it didn't stop threatening the U.S. In late September while addressing the United Nations for the first time, he threatened to "totally destroy" North Korea if it forced the U.S. to defend itself or its allies. In a speech to South Korea's National Assembly, president Trump denounced Kim's regime but also offered the erratic leader a path to peace if he agreed to cease long-range missile tests and move toward denuclearization. North Korea rejected his offer and said the president had "begged" for nuclear war during his Asia trip.
Shortly after returning from his trip, Trump placed North Korea back on the list of state sponsors of terrorism on November 20. Kim has been far from quiet in the ongoing exchange of words as well. He has "sentenced Trump to death" and said that the U.S. president has "lit the wick of war."
China, which is North Korea's top trading partner and most important ally, has tried to pressure Pyongyang to change its stance on the development of nuclear weapons. But a recent visit from a senior Chinese envoy to the North Korean capital appears to have been unsuccessful. Correspondingly, China recently shut down the main road connecting it with North Korea, and the state-owned airline Air China suspended flights from Beijing to the reclusive nation.
Morgulov, whose nation, Russia, shares a border with North Korea, appears to be concerned about the rogue country's handling of weapons of mass destruction.  "We have told North Korea many times that for us [its] nuclear status is unacceptable," the diplomat said. "We continue this work with the North Korean counterparts presenting to them our position."