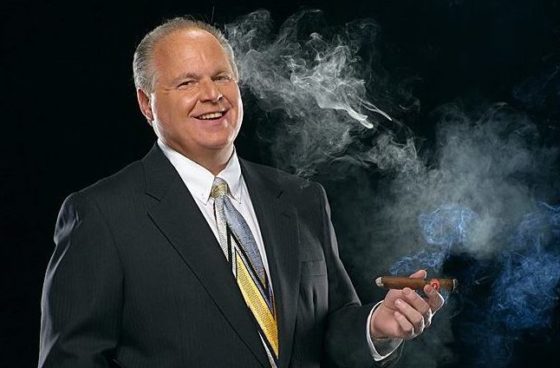 Well-known talk radio host Rush Limbaugh made a prediction about the midterm elections that is bound to cause a debate. Limbaugh predicts that Republicans will retain control of the House of Representatives and make gains to their majority in the Senate.
In an exclusive interview with Fox News' Sean Hannity, Limbaugh boldly predicted Republicans will hold both houses of Congress next month in spite of Democrats "blue wave" attempts and Facebook's obvious censorship of conservatives. "We hold the House and increase the Senate," the conservative talk radio host predicted in an interview set to air Thursday night on Fox News' "Hannity" at 9 p.m. ET. "I think the Democrat Party deserves to lose in the biggest single electoral landslide defeat in my lifetime because of the actions they've taken just in the last month," Limbaugh added.
The party out of power in the White House historically picks up seats in the first post-presidential midterms. And polling has suggested 2018 will be no different. Those polls are showing an environment that still favors Democrats. Democrats hold an 11-point lead on Republicans on a generic congressional ballot, according to a recent Washington Post/ABC News poll. According to that poll, fifty-three percent of registered voters would choose a Democratic candidate in their district, while only 42 percent of voters would choose to vote for a Republican.
According to the Fox News Senate Power Rankings, Democrats have the edge for at least 45 seats (including seats not up for election, or ranked likely or lean Democrat in elections this cycle), while Republicans have the edge for at least 50 seats. Remaining are five states considered tossups: Florida, Indiana, Missouri, West Virginia, and Montana.
But Limbaugh says he doesn't put much stake in any of those polls. "I don't trust it. It hasn't been right consistently enough for me," Limbaugh said of the polling. "People doing these surveys desperately want Trump gone. I don't know how they can take that out of their work."
Democrats still seem more likely to win a majority in the House. According to the Fox News House Power Rankings, 207 House seats are likely or lean Democrat, while 197 seats are likely or lean Republican. There are 31 toss-up seats. It takes 218 seats to have the majority.
However, Corry Bliss, the executive director of the Congressional Leadership Fund super PAC working to elect Republicans to the House, agrees with Limbaugh. He wrote in a memo to donors Thursday that Democratic challengers continue to outraise Republican candidates "but the political environment continues to improve with new races coming on the map for Republicans and off the map for Democrats."