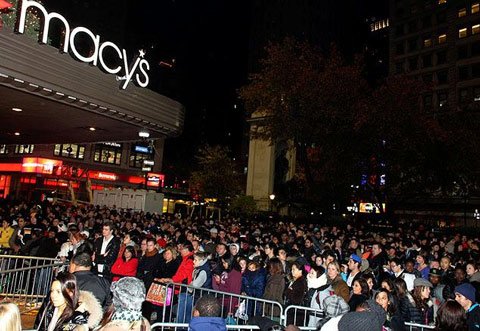 (Pictured: A sea of sheeple prepare to raid Macy's Flagship store in New York on Black Friday 2013)
If there's a single day that encompasses what America has become in the 21st century, it's the annual Black Friday stampedes taking place across the country.
Tapped out consumers, many struggling to make ends meet, always find a way to join their Sheeple brethren in spending money they don't have on cheap products manufactured in slave labor camps around the world.
Watch the annual migrations as shoppers fight it out, stab, stun and shoot each other for deep discounts on BluRay players, flat screen TV's, five dollar toasters and other essential consumer products they can't live without.
Paul Joseph Watson of Infowars notes, "If Americans behave like this over electronic slave goods, imagine how they will react when the food runs out."
Run, Sheep, Run!
Black Friday Stun gun fight at the mall:
Over 15,000 Rush the Doors at Macy's:
Chaos at BrawlMart: Watch the man in the orange/gray jacket do whatever it takes to get a Door Buster, including pushing and shoving children to get a piece of the action. The man who posted the video claims he was kicked out of the store for recording the incident. (No word on whether or not the adult assaulting other shoppers was allowed to stay):
Woman Struggles with cops… she wants that TV bad!
Barricades? What Barricades!?
Fight over clothing…
This guy doesn't like to be recorded…
Eyewitness: Cops shoot shoplifters
Mark Dice: "Thank you for ruining the tradition of Thanksgiving… You are Parasites"