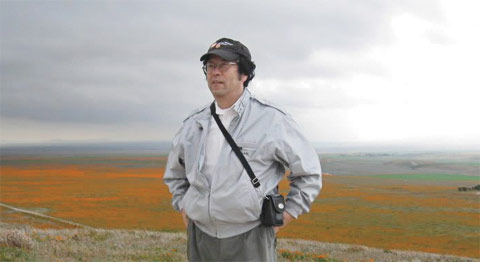 It's taken the world by storm, rising thousands of percentage points in just a few years and making multi-millionaires out of early investors. Just $1000 invested a couple of years ago would be worth nearly a million today.
Bitcoin and the crypto-currencies that followed in its footsteps have become widely popular with those looking to keep their transactions private, while at the same time driving governments all over the world nuts because there exists no paper trail.
For years no one really knew who created Bitcoin. It just kind of popped up out of nowhere. There were rumors, based on investigations into the code that it was probably a single developer.
But now, after an extensive investigation by Newsweek's Leah McGrath Goodman, we finally (think we) know who started it all.
His name is Satoshi Nakamoto, though that was originally thought to be just a pseudonym, and he's a highly secretive individual with ties to even more secretive government programs. According to Goodman, he's worked on a host of highly classified projects for the U.S. military including the development warship and aircraft technology, but details about his career are sparse.
Though Nakamoto has some $400 million worth of Bitcoins, he has reportedly never touched them. Apparently, once the initial development of the crypto-currency was completed he retreated to the foothills outside of Los Angeles, CA, where he now lives locked away from the rest of the world.
When Goodman showed up at his front door Nakamoto first called the police, and once they arrived, he then answered the door.
It seems that classified government work and his involvement with Bitcoin has made him a bit paranoid.
He's not looking for fame and that is quite evident considering that not even his closest family members knew he was the man behind one of the largest anti-establishment movements in recent years.
Standing before me, eyes downcast, appeared to be the father of Bitcoin.

Not even his family knew.

…

A libertarian, Nakamoto encouraged his daughter to be independent, start her own business and "not be under the government's thumb," she says. "He was very wary of the government, taxes and people in charge."

She also describes her father as a man who worked all hours, from before the family rose in the morning to late into the night. "He would keep his office locked and we would get into trouble if we touched his computer," she recalls. "He was always expounding on politics and current events. He loved new and old technology. He built his own computers and was very proud of them."

…

Ever since Bitcoin rose to prominence there has been a hunt for the real Satoshi Nakamoto. Did he act alone or was he working for the government? Bitcoin has been linked to everything from the National Security Agency to the International Monetary Fund.

Yet, in a world where almost every big Silicon Valley innovation seems to erupt in lawsuits over who thought of it first, in the case of Bitcoin the founder has remained conspicuously silent for the past five years.

"I could see my dad doing something brilliant and not accepting the greater effect of it," says Ilene Mitchell, who works for Partnerships for Student Achievement in Beaverton, Ore. "But I honestly don't see him being straight about it. Any normal person would be all over it. But he's not totally a normal person."

…

Nakamoto's middle brother, Tokuo Nakamoto, who lives near his brother and mother, in Duarte, Calif., agrees. "He is very meticulous in what he does, but he is very afraid to take himself out into the media, so you will have to excuse him," he says.

…

You want to know about my amazing physicist brother?" says Arthur Nakamoto, Satoshi Nakamoto's youngest sibling, who works as director of quality assurance at Wavestream Corp., a maker of radio frequency amplifiers in San Dimas, Calif.

"He's a brilliant man. I'm just a humble engineer. He's very focused and eclectic in his way of thinking. Smart, intelligent, mathematics, engineering, computers. You name it, he can do it."

But he also had a warning.

"My brother is an asshole. What you don't know about him is that he's worked on classified stuff. His life was a complete blank for a while. You're not going to be able to get to him. He'll deny everything. He'll never admit to starting Bitcoin."

And with that, Nakamoto's brother hung up.
If one thing is for certain, it's that Nakamoto changed the world. And as far as we can tell he wants none of the recognition that others might have tried to garner had they done the same.
Being a Libertarian in his political leanings, it seems Nakamoto may have gotten fed up with the world of government intrusion and central banking, so he took it upon himself to make a change for the better.
Of course, his background suggests, at least on some level, that the entire Bitcoin operation may have well been a high level classified government project. The conspiracy theories surrounding Bitcoin have been circulating since the very beginning, with many pointing to the NSA or some non-official government agency as being the original developer. The Newsweek report will no doubt re-ignite those theories.
Nakamoto isn't talking and chances are he probably never will.
Whatever the case, if this is the man behind Bitcoin, then he can honestly say that he, almost single handedly, transformed how the internet does and will do business in the future.