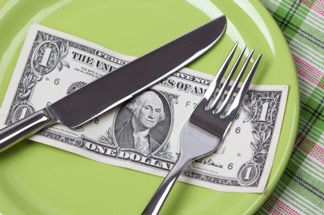 This article was written by Tyler Durden and originally published at Zero Hedge.
Editor's Comment: Those at the top of the heap are generally too out of touch to connect with the pressure and burden that those on the lower end of the spectrum are feeling. Dollar General, however, caters to the working poor, those on benefits and those who are desperately feeling the economic decline. They see it every day, they hear from their customer base, and it is reflected in their pricing and marketing – they must reach those people on some level in order to continue a successfully operating chain.
The pressure and burden of rising costs for rent, food and living expenses, combined with the painful cost of healthcare – either tax penalties or premiums – are making it incredibly difficult for many ordinary Americans who are just trying to achieve a decent living standard and way of life.
Those involved with economic and fiscal policy have no idea, and no way of connecting to the difficult times that have fallen upon those who simply cannot find better work, higher paying jobs and cannot cope with runaway costs. Moreover, these pressures reveal the faults and cracks of the system, a system which must either adjust to create better conditions, or collapse on the weight of the people are at their rope's end in putting up with it. Despite the post election optimism about the economy, there are plenty of sober reasons to be concerned about an economy that could collapse any time now.
Dollar General's Startling Admission: Half Of U.S. Consumers Are Feeling More "Dire" Than Ever
by Tyler Durden
When we last looked at the performance of deep discount retailer Dollar General three months ago, we found something troubling: company CEO Todd Vasos, who badly missed its earnings expectations, admitted on the Q2 conference call that he was surprised to admit that while on the surface things are supposed to be getting better, the reality is vastly different for low-income US consumers:
I know that when we look at globally the overall U.S. population, it seems like things are getting better. But when you really start breaking it down and you look at that core consumer that we serve on the lower economic scale that's out there, that demographic, things have not gotten any better for her, and arguably, they're worse. And they're worse, because rents are accelerating, healthcare is accelerating on her at a very, very rapid clip.
Making matters worse, he added that the company's core consumers base, 65% of which is comprised of lower-income shoppers, has been impacted by the recent reduction or elimination in foodstamps: "now couple that in upwards of 20 states where they have reduced or eliminated the SNAP benefit, and it has really put a toll on [the core consumer]."
He elaborated that the reduction in foodstamps benefits promptly filtered through the entire business model, and culminated with Dollar General being forced to cut prices to remain competitive.
While America's poorest where pressured on one side by declining foodstamp benefits, on the other they were getting hit by rising rental and healthcare costs:
"[The] core consumer, I tell you, has gotten no better as far as her economic well-being. Matter of fact, she tells us, while we're out in the stores or even through all of our panel data that we do, that while things haven't gotten a lot worse as far as income coming in, other than the recent SNAP decrease, my expenditures are going up at a very rapid rate. Healthcare is one of the big ones, because most of our consumers, while she may be working, doesn't have healthcare, and we all know that she's having to now pay for this healthcare or be taxed on it, right? So that is starting to really play against that low-end consumer right now, and it will continue to play against her. You couple that with those rents that we talked about, those increased rents are real, and in many parts of where we serve our customer, the affordability and availability of rental units are getting more and more scarce, which is driving up prices. And we're seeing that because most of our core customers cannot and do not own their own homes."
But the one statement from Vasos that revealed just how bad the situation truly is for much of America was the following: "I've been out in stores in the middle of the aisle and heard customers come up to our store manager in tears and thanking them for being there and thanking them for the prices that we offer in a real convenient nature for her, where she can walk to the store, because she can't afford anything else. When you hear that, that really brings home where this core customer is."
* * *
Fast forward to today when after last quarter's abysmal results, and after after two consecutive quarters of slowing sales, Dollar General once again missed expectations across the board. The dollar store reported that earnings came in at 89 cents a share, falling short of Wall Street forecasts for 93 cents a share; sales rose 5% from the prior year to $5.32 billion, missing analysts estimates for $5.36 billion. The deterioration was the result of an ongoing decline in same store sales, which dropped by 0.1% in the quarter, missing consensus estimates of a 0.8% rebound, even as the company cut prices: gross margin declined from 30.3% a year ago to 29.8%, missing estimates of 30.2%. Finally, the company reduced its profit outlook for the year, saying earnings would come in on the low end of the 10%-15%  long-term growth range, and below Wall Street estimates pg 13%.
There were several reasons for the disappointing results, one among which was the company's latest failed attempt to boost traffic by lowering prices, which while leading to the latest (already razor thin) margin decline, failed to materialize in an increase in same store sales. One can blame that on further industry-wide discounting as the race to the bottom accelerates. "There is evidence Walmart has lowered food prices in certain categories, which likely pressured Dollar General – we note that Dollar Tree is impacted less by this as it has a more discretionary product mix," points out Barclay's analyst Karen Short. "We believe Dollar General's initial price reductions were likely introduced more broadly in the third quarter, potentially pressuring results in the near-term," Short added.
But the biggest factor by far impacting the performance of the dollar store, was the continued adverse turn in the purchasing power of the lower half of US consumers: according to Dollar General's executives, the company's core low-income consumers continued to feel pain, weighed down by higher health-care bills, rising rents and cuts to federal food stamp programs, in other words the very same things the company lamented last quarter.
Which is surprising.
As the WSJ notes, over the past decade, dollar stores benefited from robust growth spurred by cash strapped consumers suffering from the recession and postrecession malaise. "That picture could be starting to change. Low income wages are increasing and competition for hourly workers is increasing."
Which would be great if it were true, because that particular version of reality presented by the Bureau of Labor Statistics seems to conform with what is taking place in the real world, where Dollar General's shoppers aren't feeling flush, said the CEO.
And just to avoid putting words in his mouth, this is what Todd Vasos said during today's Q&A, when a Morgan Stanley analyst asked him if he can share "any further color around the low-end consumer health" and how it differs from what the company noted last quarter versus the latest observations. This is what Vasos replied:
Interestingly, we talk to our consumers each and every quarter through panel data as well as we bring them in and talk to them in general and I can tell you as late as mid third quarter, they were telling us that their sentiment – feeling – is even more dire than it was in previous quarters in early 2016. What they're citing and continue to cite is the rising healthcare costs that they're facing. I don't believe any of our core customers realized what they were up against on those rising costs. And then rental costs continue and they call that out second on paying rent because most of our, again, core customers rent, don't own and those rents are going up across the nation at a pretty high rate. 

So we're hearing a lot of the same things we've heard over the last couple of quarters but what was interesting to us was that she was feeling worse off today, middle of the third quarter, than she was earlier in the year.
We go out and talk to the customers each and every quarter, and again I believe that the majority of what we are communicated to everyone earlier in the year pretty well is still well intact as far as the consumer is concerned except for the notion that she may be a little worse off today economically than she was even earlier in the year.
His response, we hope, clarifies any residual confusion about how the lower half of the US consumer class is doing these days.
This article was written by Tyler Durden and originally published at Zero Hedge.