As we have mentioned here throughout the beginning of this year, Ukraine has been (and continues to be) a major "flash point" that holds dire consequences for a Europe already in tatters.  Ukraine is also a major spot of contention between Russia and the United States.  To recap, presently we have a President intent on a new era of relations between Vladimir Putin and his government.  The problem lies in what the U.S. has done in the past five year under the Obama-directed State Department (courtesy of Victoria Nuland).  That State Department was aided and abetted by none other than Senators John McCain and Lindsey Graham.
As mentioned in other articles, the situation in the Eastern Ukrainian provinces is serious.  Although the Minsk accords provided for an official ceasefire between the Kiev government under President Petro Poroshenko and the separatist militias in the Donbass region, the former has been clearly guilty of violating it repeatedly.  These violations have taken the form of prohibited armored vehicles and artillery barrages in numerous cities.
At the very beginning of the U.S.-sponsored coup d'état that ousted legally-elected President Viktor Yanukovych and sent him fleeing to Russia, the Maidan movement (comprised of Ukrainian ultra-nationalists) began protests and riots that led to fighting.  Maidan was (and is) being both encouraged and supported financially by none other than George Soros.  The intent for Ukraine with Soros is no different: to crush the opposition of separatists and enable the U.S.-installed government to rail Ukraine into NATO and the IMF.
Once this has been accomplished, Soros has the "master plan" of taking over a large portion of the Eastern provinces because of the tremendous amounts of minerals and natural resources he wishes to buy for "pennies on the dollar" and then bleed the country white while taking the profits out of the country.  As of this writing, Maidan is at it again.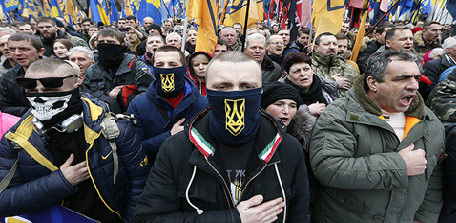 Photo: RT News
According to an article released by RT News, Maidan has organized a blockade of coal shipments.  This is not a small shutdown by any means.  The article, entitled Maidan 2.0: Ukrainian Nationalists Provoking Political Crisis with Coal Blockade, by Valentyn Ogirenko has reported that approximately 74,000 cargo cars have been prevented from crossing any lines between the separatists and the Poroshenko government. On average, an open railroad car holds 115 tons of coal.  This amounts to approximately 8,117,000 tons of coal.  That is a staggering amount.  So staggering, as a matter of fact, that Kiev has claimed it is an emergency.
Here is an excerpt from that article:
"The blockade organizers boasted over social media that they have stopped some 74,000 cargo cars from crossing the disengagement line between Kiev-controlled and rebel-held parts of Ukraine.  Thousands of wagons filled with coal cannot leave the Donbass area, Donetsk Region, as pro-Kiev activists block train lines leading to government-controlled territories. The nationalists argue that buying coal from mines controlled by the rebels in the East is equivalent to treason. However, without the necessary coal supplies Ukrainian power plants are threatened with closure.  Kiev has declared a state of emergency for the nation's energy industry."
RT also conducted an interview with a former U.S. diplomat to Ukraine concerning the significance of it by the name of Jim Jatras.  His comments pertain to the Ukrainian nationalists (Maidan).  This next excerpt shows the delicate nature of the crisis and what it means overall, as explained by Mr. Jatras:
"Frankly, I think they [Maidan and the Ultra-nationalists] are not sure what to do. They know that this is extremely damaging to the Ukrainian economy, as of February 15 they said they had 40 days reserve and we're going to be coming up on the exhaustion of those reserves very quickly. The Prime Minister Mr. [Volodymyr] Groysman has said that 300,000 jobs are potentially going to be lost here if they are not able to maintain coal supplies – this is 12 percent of the country's production. They cannot sustain this. You would think that this kind of illegal activity – there is no legal authority for this blockade – would be something that the government would step in. I can only imagine that they don't do it because they feel too weak to do it. They are afraid of the kind of ultranationalists that are behind this, and that if they try to take forceful action against them, it will provoke a resort to violence that they may not be able to handle."
This is serious business, and even more in that Maidan wants to stop the flow of coal into the Donbass and Eastern Ukraine, yet it is hurting the interests of the entire country.  Keep in mind: we haven't even mentioned the activities of outside influences, such as the U.S. and Russia.  The U.S. has an arms package (approved in both 2015 and 2016 by the Congress and prodded by Obama) that is expected to deliver weapons, munitions, and other military supplies to the Kiev government this year, in 2017.
On the other side of the Ukrainian border, Russia is continuing to supply the separatists who (as mentioned in other articles) are Ukrainians of Russian ethnic derivation who feel a strong sense of allegiance to Russia and wish to separate (as Crimeans voted to do so prior to the Russian annexation of 2014).  In addition, Sputnik News just released a piece on 2/20/17 by Sergey Averin entitled Quarter of Russians back potential recognition of Donbass republics.  In a poll, over half of Russians think that the Russian government should help the separatists of Lugansk and Donetsk.
In addition to this, Vladimir Putin ordered agencies in Russia last week to accept the documents and passports issued by these two separatist regions of Ukraine, along with visa-free travel to Russia if they possessed such documents.  Sergey Lavrov, the Russian Foreign Minister said this was necessary for the war-torn areas to provide relief to those residents who wished to flee to Russia.
The U.S. is not yet officially weighing in on this, as before the elections the support was for the Kiev government.  Now we have an American President who is determined to reset the relations with Russia, and U.S. policy, while not in Tartarus as is was last year, is still in limbo.  Until the President clarifies the direction the State Department will travel and reigns in the rogue Congress such as Sen's. McCain and Graham (who serve the MIC, or Military Industrial Complex first and then the United States, if it isn't inconvenient).
In the meantime, fighting is still occurring in the Eastern provinces and now we have Maidan (a Soros-backed destabilizing organization) coming to the forefront again.  It will take some shrewd diplomacy and perhaps some restructuring within the Ukrainian government (internally) to bring these troubles to a rest.  Make no mistake, though: It is far from over and is a powder keg that can escalate and involve other countries in Europe, as well as spark action between Russia and the United States.
---
Jeremiah Johnson is the Nom de plume of a retired Green Beret of the United States Army Special Forces (Airborne).  Mr. Johnson is also a Gunsmith, a Certified Master Herbalist, a Montana Master Food Preserver, and a graduate of the U.S. Army's SERE school (Survival Evasion Resistance Escape).  He lives in a cabin in the mountains of Western Montana with his wife and three cats. You can follow Jeremiah's regular writings at SHTFplan.com or contact him here.
This article may be republished or excerpted with proper attribution to the author and a link to www.SHTFplan.com.
Also Read:
Profound Events Are Taking Place In Russia and North Korea: 'There Are Destabilizing Forces At Work Here'
"The End Goal Is To Destroy The Constitution and Subvert The Country" – How Secretive Non-Profit Organizations Erode The United States
The Left-Right Deep State Is One In The Same: "The Goal Is The Enslavement And Complete Control Of All Of Mankind"
Trump Can't Stop It: "The People Who Have Been Orchestrating The Collapse Have Not Halted Their Agendas