This article was contributed by Lior Gantz of the Wealth Research Group.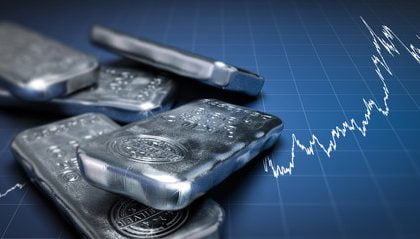 I showed you the THREE BIG TRUTHS of the coming decade. Ignoring these trends will result in poverty, while adapting to them and ADOPTING THEM will lead TO RICHES.
The second truth is that rates will REMAIN NEAR ZERO for years, perhaps for good (until the dollar is replaced or joined by another reserve currency).
If that's the case, NEGATIVE RATES are nearly guaranteed. Think of it in this light: if rates are zero and inflation isn't, then real rates are negative BY DEFINITION.
Too many currency units in circulation have led the large institutional funds to embark upon adventures that they wouldn't otherwise choose to engage in; they're borrowing because it's there for the taking.
There's just NO WAY to generate a fixed-income stream the same way that it WAS POSSIBLE in the 1980s and 1990s, when nominal rates were high and inflation was quite moderate, NOT TO MENTION that debt/GDP ratios weren't alarming, as they are today.
The chart above shows the STRENGTH of the TREND. Inflation is rising, since Covid-19 isn't nearly as bad as those early epidemiologists SCREAMED it WOULD BE.
Therefore, not only is the rebound quick to happen, BUT SINCE industries weren't in a TOUGH SPOT going into this mess, there's a real chance that dominant companies will BOUNCE BACK faster than we might expect.
In fact, that's what the MARKETS ENVISION, since they treat the world's MEGA-CAP companies, such as Apple Inc., Facebook, Google, Amazon and Microsoft, as more than regular businesses. They ascribe a MASSIVE PREMIUM to them, since they're also stores of value, AAA bonds and gold, all in ONE CLICK of the mouse.
They dominate their industries, almost like monopolies do, but it's not like that at all; customers have plenty of OTHER CHOICES, but they love the products and the services they get from them.
Other companies CAN BE DISRUPTED, overtaken or somehow seem vulnerable, but these ones are DEEMED INVINCIBLE.
This notion is translated into HISTORICALLY-HIGH levels of concentration of size, as you can see below:
The market now has days where the OVERWHELMING MAJORITY of stocks are down, deep IN THE RED and yet it closes up. This is possible only because the WEIGHT of the index is towards market capitalization.
This demonstrates the importance of owning the indices, since history proves that the LION'S SHARE of ultimate return originates from only a handful of stocks.
Two years ago was the last time I WALKED THE STREETS of Manhattan and visited the Federal Reserve's building, as well as Wall Street, home to the New York Stock Exchange.
On this exchange, more than 3,000 public companies are listed. Today, with markets at ALL-TIME HIGHS, fewer than 50 of these stocks are trading at 52-week highs! On the NASDAQ, where about 3,500 tech and other types of companies are listed, fewer than 150 stocks are trading at 52-week highs!
I can see the WRITING ON THE WALL and it tells me we're either ON THE PRECIPICE of a severe correction or, if the economy generally improves, on the cusp of a SPECTACULAR RALLY to even loftier valuations.
While it is impossible to predict which is next, we can HEDGE PROPERLY, by both diversifying into companies that are STILL CHEAP, while at the same time having exposure to the index, but also allocating funds into precious metals, real estate and PRIVATE DEBT.
Diversification is paramount!