Kimberly Paxton of The Daily Sheeple has contributed to this report.
Follow Live on Police scanner:
UPDATED 8:46 PM ET
19-year-old Dzhokar Tsarnaev is in custody…details to follow.
UPDATED 8:19 PM ET
CBS reports that the FBI admits that they interviewed Tamerlan Tsarnaev 2 years ago for possible extremist ties.
The FBI admitted Friday they interviewed the now-deceased Boston Marathon bombing suspect Tamerlan Tsarnaev two years ago and failed to find any incriminating information about him.

As first reported by CBS News correspondent Bob Orr, the FBI interviewed Tsarnaev, the elder brother of at-large bombing suspect Dzhokhar A. Tsarnaev, at the request of a foreign government to see if he had any extremist ties, but failed to find any linkage.

Both Tsarnaev brothers were legal permanent residents of the U.S. There is no evidence so far that either brother received any tactical training.
UPDATED 7:57 PM ET
Police have surrounded a suspect in a boat in someone's backyard.  Initially officers said that the person in the boat sat up, but now they are reporting no further movement. (via scanner)
UPDATED 6:53 PM ET
INTERPOL has issued an international security alert in connection with the Boston Marathon bombings.
The INTERPOL Orange Notice, requested by the US authorities, contains photographs of the devices and identifying information including the fingerprints of the two suspects, 19-year-old Dzhokar Tsarnaev, currently being sought by authorities in the US, and his brother Tamerlan Tsarnaev, aged 26, who died after a shoot-out with police in Boston in the early hours of Friday.

"The decision by the FBI and US authorities to request an INTERPOL Orange Notice will enable police services and other law enforcement agencies around the world to advise US law enforcement authorities whether they've come across similarly designed devices in their own investigations," said INTERPOL Secretary General Ronald K. Noble.
UPDATED 6:39 PM ET
Washington Post:  Authorities have lifted the stay-indoors order for residents in the Boston area.
UPDATED 2:23 PM ET
Tamerlan Tsarnaev faced deportation in 2009, but was allowed to stay, the Washington Examiner reports:
One of the brothers suspected of carrying out the terrorist attack on the Boston Marathon faced deportation in 2009 after being convicted of a domestic violence charge but was allowed to stay, according to a government watchdog.

"Tamerlan Tsarnaev, the 26-year-old killed in a wild shootout with police, was a legal U.S. resident who never the less could have been removed from the country after a 2009 domestic violence conviction," Judicial Watch reports based on an unnamed source.
UPDATED 1:48 PM ET
Twitter update from 911Buff
RIGHT NOW – CONNECTICUT STATE POLICE PUT OUT AN APB ON A '99 GREEN HONDA CIVIC MASS TAG 11GC7 SUSPECT MIGHT BE DRIVING IT. NBC. #911BUFF

— 911 Operator (@911BUFF) April 19, 2013
UPDATED 1:15 PM ET
Anzor Tsarnaev spoke with ABC News of his suspicion that his sons were set up:
"The father said he spoke to his sons by phone earlier this week. "We talked about the bombing. I was worried about then," Anzor Tsarnaev said.

He said his sons reassured him, saying, "Everything is good, Daddy. Everything is very good."

"If they kill my second child, I will know that it is an inside job, a hit job. The police are to blame," the father told ABC News. "Someone, some organization is out to get them."
UPDATED 12:55PM ET
A defacto state of martial law has now been enacted across Boston:
Police, federal agents and military personnel are going door-to-door searching for the teenage bombing suspect who has eluded capture since being located late Thursday. Massachusetts state officials said residents should keep doors locked and not open their door unless it's a uniformed police officer knocking. New leads have been developed and the search and sweep of the area could continue through the weekend. (link)
UPDATED 11:57 AM ET
AP interviews anguished father of Tamarmlan and Dzokhar Tsarnaev:
Anzor Tsarnaev spoke with The Associated Press by telephone from the southern Russian republic of Dagestan after police said one of his sons, 26-year-old Tamerlan, had been killed in a shootout and the other, Dzhokhar, was being intensely pursued.

"My son is a true angel," the elder Tsarnaev said. He said his son was "an intelligent boy" who was studying medicine.

"We expected him to come on holidays here," he said.

"They were set up, they were set up!" he exclaimed. "I saw it on television; they killed my older son Tamerlan."

Tsarnaev, badly agitated, gave little more information and ended the call angrily, saying, "Leave me alone, my son's been killed."
UPDATED 11:46 AM ET
Authorities surround the Watertown house where Dzokhar Tsarnaev is believed to be.
UPDATED 11:35 AM ET Father of Suspects in Boston Marathon Bombing believes Secret Service framed his sons
JUST IN – ANZUR TSARNAEV, FATHER OF SUSPECTS IN BOSTON MARATHON BOMBING SAYS, HE BELIEVES SECRET SERVICES FRAMED HIS SONS. BBC. #911BUFF

— 911 Operator (@911BUFF) April 19, 2013
UPDATED 11:25 AM ET Police have deployed 2 robots to inspect a possible explosive device attached to the suspect in custody, a man in his mid-60s. The media has been advised to immediately run and take cover. (via scanner) UPDATED 10:64AM ET Police are converging on the house where they believe Dzhokhar Tsarnaev is hiding.  He has sent the following Tweet.
@boston_police Do not approach. — Dzhokhar A. Tsarnaev (@Dzhokhar_A) April 19, 2013

UPDATED 10:54AM ET
Police have another suspect in custody in the Arsenal Street area in Watertown, a man approximately 60-70 years old.  He is wearing a vest and has a device in his hand that is suspected to be explosive. (via scanner)
UPDATED 10:43AM ET
Anzor Tsarnaev, the father of suspected the Boston Marathon bombers appealed to his son, Dzhokhar, to "surrender peacefully.", but warned the U.S. that "If they killed him, then all hell would break loose." He insists that his sons are innocent of the bombing. (source)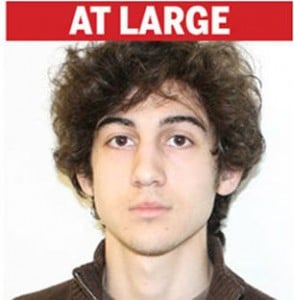 photo of Dzhokhar A. Tsarnaev
UPDATED 10:33AM ET
Police scanners in Boston are saying that there may be a third suspect.  Police are looking for  gray Honda CRV with Massachusetts plates 316ES9.  APBs have been issues in Massachusetts and Connecticut for this vehicle.
UPDATED 10:29AM ET
The second suspect Dzhokhar A. Tsarnaev has opened a twitter account and is Tweeting Live.
UPDATED 8:11 AM ET
The dead suspect has been named as Tamerlan Tsarnaev and he is the older brother of Dzhokhar A. Tsarnaev.  Tamerlan was 26 years old and a competitive boxer.  He had been in the US since 2000, when he was admitted under refugee status.  Read more about Tamerland Tsarnaev HERE.
pictured: Tamerlan Tsarnaev
UPDATED 6:29 AM ET
AP:  Boston bomb suspects from Russia region near Chechnya, lived in US at least 1 year.  Surviving Boston bomb suspect identified as Dzhokhar A. Tsarnaev, 19, of Cambridge, Mass.
UPDATED 6:01 AM ET
According to ABC News, the suspects are believed to be foreign nationals, living legally in the United States.  "Based on the way they engaged police, authorities believe they have some paramilitary training. "
All public schools in Boston have been closed for the day as police engage in a massive manhunt for the second suspect, who is still at large.
UPDATED 4:05AM ET
One of the suspects in the Boston Marathon bombing has reportedly been killed by Police.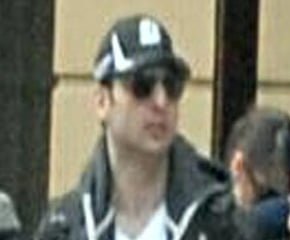 Middlesex District Attorney – Official Statement:
Police are investigating a fatal shooting of MIT campus police officer by two men who then committed an armed carjacking in Cambridge, Middlesex Acting District Attorney Michael Pelgro, Cambridge Police Commissioner Robert Haas, and MIT Police Chief John DiFava announced this evening.
At approximately 10:20 p.m. April 18, police received reports of shots fired on the MIT campus. At 10:30 p.m., an MIT campus police officer was found shot in his vehicle in the area of Vassar and Main streets. According to authorities, the officer was found evidencing multiple gunshot wounds. He was transported to Massachusetts General Hospital and pronounced deceased.
Authorities launched an immediate investigation into the circumstances of the shooting. The investigation determined that two males were involved in this shooting.
A short time later, police received reports of an armed carjacking by two males in the area of Third Street in Cambridge. The victim was carjacked at gunpoint by two males and was kept in the car with the suspects for approximately a half hour. The victim was released at a gas station on Memorial Drive in Cambridge. He was not injured.
Police immediately began a search for the vehicle and were in pursuit of the vehicle into Watertown. At that time, explosive devices were reportedly thrown from car by the suspects. The suspects and police also exchanged gunfire in the area of Dexter and Laurel streets. During this pursuit, an MBTA Police officer was seriously injured and transported to the hospital.
During the pursuit, one suspect was critically injured and transported to the hospital where he was pronounced deceased.
An extensive manhunt is ongoing in the Watertown area for the second suspect, who is believed to be armed and dangerous.
The case is being investigated by local, state and federal authorities working in cooperation. The Massachusetts State Police Bomb Squad is assessing and removing any potentially explosive devices that may have been thrown on the street in Watertown by the suspects.
The investigation remains active and ongoing.
No further information is available at this time.
Gunfire, explosions – raw video:
Updated April 18 3:50AM ET
Fox News reports that the suspect in police custody was taken to a local hospital where he was pronounced dead.
An FBI photo released at 2:00AM this morning shows the two suspects standing side-by-side. The man in the black cap is believed to be the one killed by police this morning.
The suspect wearing the white cap remains at large.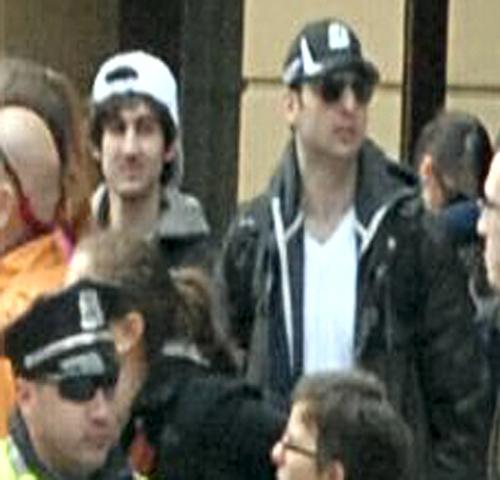 Video of police apprehending an individual in Watertown. It is not clear whether this individual is one of the two suspects:
Original Report: April 18 – 2:45AM ET
In what the FBI's public information officer calls an "active" and "fluid" situation, hundreds of police cruisers converged on a small neighborhood in Watertown, Massachusetts after multiple bombs were reportedly detonated.
Reports indicate that the bombings came shortly after a shooting involving a police officer at MIT's campus in Cambridge. The officer, whose name has not yet been released, was killed in the exchange.
Witnesses have also reported "round after round" of gunshots and explosions going off in Watertown.
Both locations are within 10 miles of the deadly Boston Marathon bombings.
The FBI reports that a suspect is in custody, but has not confirmed if the individual was also involved in the Boston bombing.
The Boston Globe reports that the individual in custody may be one of the Boston Marathon bombing suspects.
7 News Boston has reported on their web site that their law enforcement sources say that the Watertown suspects are also the Boston Marathon bombing suspects.
At approximately 2:00 AM ET the Federal Bureau of Investigation released a new photo of the two suspects together minutes before the two marathon bombs left three people dead and scores severely injured.
Mixed reports from Fox News, CNN and local Boston news channels indicate that the suspect in the photo above wearing the white hat remains at large, suggesting that his accomplice may be the one currently in custody.
Live Coverage from CBS Local
Live Coverage from 7 News