News headlines as of late have been alluding to the idea that the reason for rising oil prices in the last 18 months is OPEC's refusal to boost supplies.
The global economy can withstand an oil price of $100 a barrel, Kuwait's oil minister said on Saturday, as other exporters indicated OPEC may decide against increasing output through 2011 as the market was well supplied.

Analysts have said oil producing countries are likely to raise output after crude rallied more than 30 percent from a low in May because they fear prices could damage economic growth in fuel importing countries.

Source: MSNBC
The trend of higher prices in oil and other commodities will most certainly put strain on an already fragile global economy, but is OPEC to blame?
United Arab Emirates Oil Minister Mohammed al-Hamli said crude oil inventories are "quite high. It's the highest over the five years average… The market is well supplied."

Source: MSNBC
We tend to agree with the UAE oil minister in this regard, and anyone who takes a brief peek at the following chart will realize that this is not an exclusive problem of supply:
Source: The Oil Drum
The above chart depicts oil (and liquid fuel) production numbers from 2001 through September of 2010 for OPEC (light blue) and other producers. One thing you might notice right off the bat is that there has been no significant decline in production and the numbers are only slightly down from 2008 when the price of oil peeked at $140 per barrel. You'll also notice the black line which tracks the price of oil. Notice how the price rises and falls, without any direct relationship to the actual production capacity.
Thus, we can conclude that the current rise in oil prices is likely not due to a lack of production. The next obvious question is, what about global demand? Given that China, India and other countries are cranking up their need for oil daily, it is almost guaranteed that demand will rise – and without boosting production we will certainly see a rise in the price of oil. However, it doesn't seem that current demand for oil is anywhere close to justifying a price boost of 30% since May of 2010 and the average $3.10 gas we're seeing today.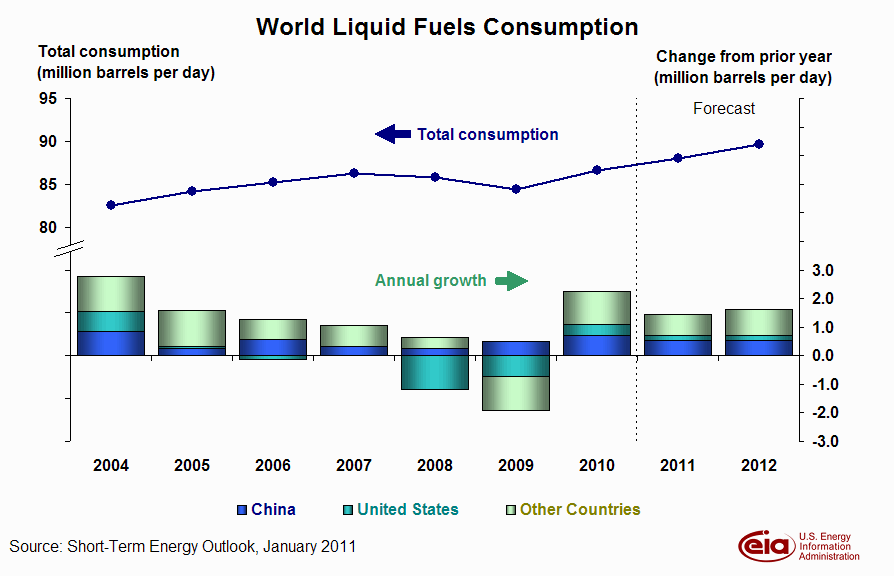 Source: U.S. Energy Information Adminstration
Demand is up, and it will continue to rise each year at an estimated 1.5 million barrels per day, yet this is not why prices are rising today – even though, admittedly, supply vs. demand does play a part, albeit a small one.
As we saw in the lead up to the eventual commodity and stock market crash of 2008, the missive here is to point fingers at everybody except for those who are actually responsible. Today the headlines blame OPEC. Tomorrow they will blame anonymous market speculators. Same story, different year.
The real reason, at least this time around, may very well have to do with the following: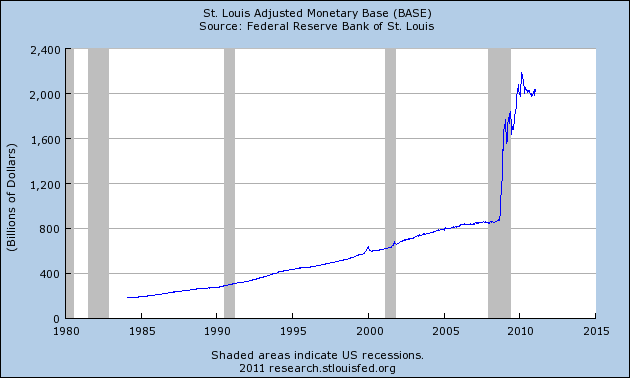 Source: Federal Reserve Bank of St. Louis
That is the most recent Federal Reserve chart for our monetary base. The monetary base is basically the amount of currency in circulation (the money floating around in the public sector and being used for groceries and other consumer purchases) plus money being kept in reserves at the Fed.
The above Federal Reserve chart clearly indicates that there is a lot more money out there today than there was prior to the financial crisis. In fact, if you take a look back at the black line (the price of oil) from the first chart, you'll notice that the black line and the blue line from the monetary base chart correlate quite nicely.
All of that extra money the Fed has been cranking out has to go somewhere. In essence, what we have is more money chasing fewer goods – a.k.a. price inflation.
This is the reason why we are seeing higher prices in not just oil, gas and natural gas, but all commodities as we pointed out in The Real Rate of Inflation and How to Protect Yourself: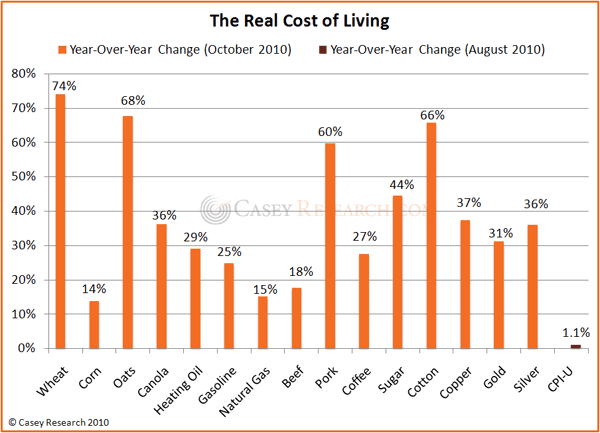 Though the Federal Reserve will argue that there is no inflation based on official CPI data, the above chart makes it clear that the US dollar price for every major commodity is rising.
This begs the question, should we also blame OPEC for the 76% rise in wheat, or the 68% rise in oats?
The U.S. consumer cannot withstand $140 oil again. Nor can they withstand the food price increases of 25% to 50% that we'll see in 2011. Prices will, eventually, hit a breaking point much like they did in 2008 and we will end up with even more people who are broke, hungry and unemployed.
No, the blame, if any is to be dished out, should be placed squarely in the lap of our Federal Reserve. It is they, not OPEC, who are responsible for unabashed, out of control production of US dollars.
Rather than asking OPEC to increase production of oil, perhaps we should be asking the Federal Reserve to reduce the supply of US dollars.
Update: Also see Reginald Kaigler's Video Commentary "Oil Prices Rising! It's Supply, Demand & Inflation!"