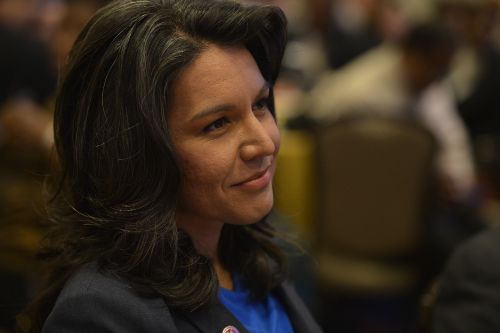 The American people might just be in possession of the most hypocritical government on Earth. The United States talks a big game about freedom and democracy, but that's never stopped our government from maintaining close ties to countries like Saudi Arabia and countless other vile regimes from the past.
But perhaps what's most hypocritical, is how our government has supposedly been engaging in the so called "War or Terror" for years, when in fact we've been funding and arming the terrorists. It's our government that's been funding radical Islam in Syria, and it's our government that created the conditions in Iraq that led to the rise of ISIS. It could be argued that we further helped ISIS along by providing support for supposedly moderate rebels in Syria who fought alongside ISIS.
That's why Senator Rand Paul and Rep. Tulsi Gabbard recently introduced a much needed piece of legislation titled the Stop Arming Terrorists Act. In a recent press release Gabbard explained the necessity of this legislation:
"For years, the U.S. government has been supporting armed militant groups working directly with and often under the command of terrorist groups like ISIS and al-Qaeda in their fight to overthrow the Syrian government. Rather than spending trillions of dollars on regime change wars in the Middle East, we should be focused on defeating terrorist groups like ISIS and al-Qaeda, and using our resources to invest in rebuilding our communities here at home."
And she should know. Earlier this year she went on a fact finding mission to Syria. For making that trip she caught a lot of flak by the establishment-backed media, who criticized her for daring to reach out to Syria, and called her an Assad apologist. When she returned from that trip she claimed that "There is no difference between "moderate" rebels and al-Qaeda (al-Nusra) or ISIS — they are all the same."
And she's been wise to that horrible truth for a long time. In fact, Gabbard introduced similar legislation with the same name last December, but it apparently didn't gain any traction. This time it's being reintroduced with the help of Senator Rand Paul, and it has been cosponsored by nine other Republicans and Democrats. If it passes the bill will inhibit our government's terrorist support antics in several critical ways.
S. 532, the Stop Arming Terrorists Act:

Makes it illegal for any U.S. federal government funds to be used to provide assistance covered in the bill, including weapons, munitions, weapons platforms, intelligence, logistics, training, and cash, to terrorists.
Prohibits the U.S. government from providing such assistance covered in the bill to any nation that has given or continues to give such support to terrorists.
Instructs the Director of National Intelligence (DNI) to determine the individuals and groups that should be considered terrorists, for the purposes of this bill, by determining: (a) the individuals and groups that are associated with, affiliated with, adherents to, or cooperating with al-Qaeda, Jabhat Fateh al-Sham, or ISIS; (b) the countries that are providing assistance covered in this bill to those individuals or groups.
Anticipates changing conditions by requiring the DNI to work with the Senate Foreign Relations Committee, Armed Services Committee, and Select Committee on Intelligence to review and update the list of prohibited countries and groups every six months
Provides for accountability and transparency by requiring the DNI to brief Congress on its determinations.
Unfortunately, I think we all know what's going to happen to this bill. Our government is firmly in the hands of the military-industrial complex and the deep state, and those forces are perfectly content with the status quo, which is never ending war in the Middle East. It's safe to say that the chances of this bill passing are very slim.
However, what's really sad is that bill exists in the first place. The fact that someone has to try to convince our government to stop arming vile terrorists is depressing. You'd think that this is common sense and should go without saying, for both practical and moral reasons, but apparently it still needs to be said.