Update: [16:00 PST] – This video interview follows reports that up to 5,000 militia members are on their way to Nevada to stand with the Bundy family against massive government overreach. Earlier today Bundy family members and friends broke through the Federal blockade to rescue cattle stuck behind enemy lines.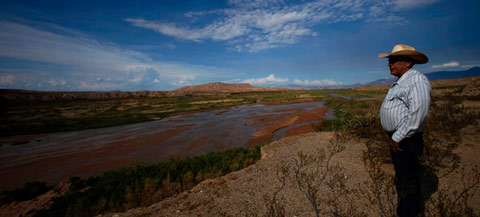 The man at the center of the dispute, rancher Cliven Bundy, joins Infowars' David Knight and Steve Quayle for an exclusive interview to discuss developments at Bunkerville, Nevada where there are now at least 300 Federal law enforcement agents surrounding the Bundy ranch.
According to Cliven Bundy, what's at issue is that the US government has no right to call the shots over the land, as dictated by the 10th Amendment of the U.S. Constitution.
Mr. Bundy also notes that he and those arriving in the area are prepared to do whatever it takes to maintain their sovereignty.
The first thing we need to make clear is – who owns this land? That's really not clear. We have a federal judge that says the United States owns this land. We have the United States Constitution that says Nevada owns this land.

So this is where I'm at… Let's talk about my grazing fee… who am I supposed to pay my grazing fee to? Constitutional sovereignty of Nevada that owns this land?

No. The one I get the grazing fee bill from is the United States government.

I don't recognize them having any jurisdiction or authority over this land. 

I do not have a contract with the United States government.

…I urge you, read the Constitution. Those founding fathers laid out how we're supposed to act. They have all the answers already laid out for us. Why don't we live that Constitution and be happy in America?

…

I know what I'm going to do. I'm going to do whatever it takes. The public and the protesters here… I think are ready to do whatever it takes, too.

In other words, this thing's not gonna' get over tomorrow. We're going to fight until we win this and get our public lands back.
This is a developing situation. 
Stay tuned for more information as it becoms available via SHTFplan.com, The Daily Sheeple, Infowars, Steve Quayle, et. al.