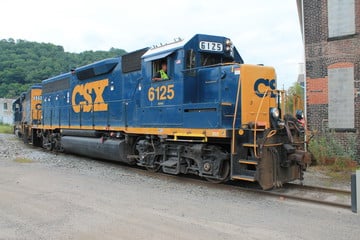 Railroad CEO James Foote says that the behavior of this economy is the "most puzzling" he's seen in his 40-year career in the railroad industry. "The present economic backdrop is one of the most puzzling I have experienced in my career," Foote told Wall Street analysts on a conference call Tuesday evening.
"Both global and U.S. economic conditions had been unusual this year, to say the least, and have impacted our volumes. You see it every week in our reported carloads," the CSX CEO said according to Yahoo. "We are seeing a range of conflicting data points and economic indicators and regularly speak with customers who despite the recent downtime — slowdown, remain cautiously optimistic about the second half." Foote blamed the trade war for the crushing economic data. And he's not far off, as industrial customers are a group caught smack in the middle of the trade war – much like farmers. 
CSX shares tanked 11% on Wednesday as second-quarter earnings came in 2 cents short of analyst forecasts. Sales dropped 1% to $3.06 billion, roughly in line with projections. "Although it shouldn't have come as a shock that CSX lowered its FY19 revenue guide (the weekly industry volume data has been telegraphing macro weakness for some time), investors balked at the shortfall in yields relative to expectations. And while negative mix did have an impact, CSX also saw a sequential deceleration in core pricing in some parts of its book," railroad analyst Allison Landry wrote in a note to clients.
"We expect solid cost side execution from CSX but weaker markets are a meaningful headwind to both EPS performance and the stock," Landy said.
In case you need a point of reference: U.S. GDP is generally viewed to have grown by 2% in the second quarter. Judging by CSX's results, that's not a real number. –Yahoo
The economy has been acting odd for over a year now.  The Federal Reserve will likely cut interest rates during an economic expansion, the United States government is running historically high deficits while unemployment is at low levels. There is something else going on below the surface we aren't being told about, and yet we're just expected to believe the mainstream media when they say things are going great.