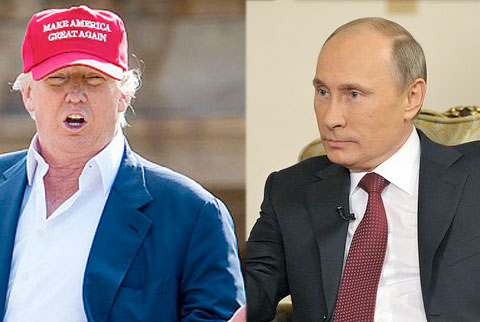 This article was written by Tyler Durden and originally published at Zero Hedge.
Editor's Comment: Considering that the escalating tensions with Russia have little to no basis in reality, and represent instead an attempt to stir conflict and stoke further war in order to justify a military presence everywhere at once, thawing out relationships with Putin would be a great development.
Could Trump avoid the disgraceful hypocrisies of the American machine that are now playing out in Syria and the surrounding region? It seems possible, and right now Putin is mopping the floor with Obama and co. and laughing at how ridiculous the ISIS lie has become. Would things really be different with Trump? One can hope…
Putin 'Endorses' "Absolute Leader" Trump As Colorful, Talented Guy
by Tyler Durden
Following his annual press conference in Moscow, Russian President Vladimir Putin gave a qualified endorsement of Donald Trump's candidacy for the Republican presidential nomination on Thursday, saying he hoped Trump's election could improve Moscow's relations with the United States…
"He's a really brilliant and talented person, without any doubt. It's not our job to judge his qualities, that's a job for American voters, but he's the absolute leader in the presidential race," Putin said after his annual press conference in Moscow, according to the Interfax news wire.

"He says he wants to move on to a new, more substantial relationship, a deeper relationship with Russia, how can we not welcome that? Of course we welcome that," Putin added.
At a Republican debate in September, as Buzzfeed reports, Trump said his victory would ensure an end to Russia's frosty rapport with the U.S. under President Barack Obama.
"I would talk to him, I would get along with him," he said. "I believe – and I may be wrong, in which case I'd probably have to take a different path – but I would get along with a lot of the world leaders that this country is not getting along with."
"He does not like Obama at all. He doesn't respect Obama at all. And I'm sure that Obama doesn't like him very much," Trump said of Putin in October. "But I think that I would probably get along with him very well. And I don't think you'd be having the kind of problems that you're having right now."
*  *  *
Chess, Checkers, or Shoots-and-Ladders?