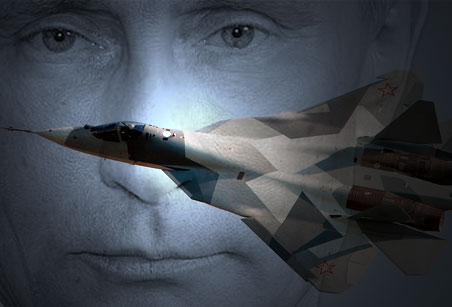 This article was written by Tyler Durden and originally published at Zero Hedge.
Editor's Comment: Only a few days ago, SHTF reported Putin Deploys 28 Combat Planes in Syria, Taunting West to "Join Forces Against ISIS", pointing towards an interesting turning of the worm in Syria and the broader middle east conflict. Putin has essentially called the West's bluff on battling ISIS, and moved to protect Assad's comparatively mild and secular regime from the gambit of Western-sponsored terrorism that is being used to shock the region into submission, and break away its fiefdoms for reconsolidation.
If Americans were paying any attention at all to Syria – and the major media are doing everything they can to keep that from happening – people would surely be angry about the lies, the wars, the killing of civilians, the destroying of cultures (including Christianity) and priceless artifacts, and especially of the deliberate plot to covertly arm and build up terrorists, radicals, and the neo-Caliphate to wreck and ruin the nation-states, invented after WWI, that the corporate bondholders seek to break into smaller, more manageable pieces. But the general population is not paying attention, and they have no idea about the significance of Russia 'checking' the West on its phony terrorism game.
Endgame: Putin Plans To Strike ISIS With Or Without The U.S.
by Tyler Durden
On Sunday, we noted that Washington's strategy in Syria has now officially unravelled.
John Kerry, speaking from London following talks with British Foreign Secretary Philip Hammond, essentially admitted over the weekend that Russia's move to bolster the Assad regime at Latakia effectively means that the timing of Assad's exit is now completely indeterminate. Here's how we summed up the situation:
Moscow, realizing that instead of undertaking an earnest effort to fight terror in Syria, the US had simply adopted a containment strategy for ISIS while holding the group up to the public as the boogeyman par excellence, publicly invited Washington to join Russia in a once-and-for-all push to wipe Islamic State from the face of the earth. Of course The Kremlin knew the US wanted no such thing until Assad was gone, but by extending the invitation, Putin had literally called Washington's bluff, forcing The White House to either admit that this isn't about ISIS at all, or else join Russia in fighting them. The genius of that move is that if Washington does indeed coordinate its efforts to fight ISIS with Moscow, the US will be fighting to stabilize the very regime it sought to oust. 
Revelations (which surprised no one but the Pentagon apparently) that Moscow is coordinating its efforts in Syria with Tehran only serve to reinforce the contention that Assad isn't going anywhere anytime soon, and the US will either be forced to aid in the effort to destroy the very same Sunni extremists that it in some cases worked very hard to support, or else admit that countering Russia and supporting Washington's regional allies in their efforts to remove Assad takes precedence over eliminating ISIS. Because the latter option is untenable for obvious reasons, Washington has a very real problem on its hands – and Vladimir Putin just made it worse.
As Bloomberg reports, The Kremlin is prepared to launch unilateral strikes against ISIS targets if the US is unwilling to cooperate. Here's more:
President Vladimir Putin, determined to strengthen Russia's only military outpost in the Middle East, is preparing to launch unilateral airstrikes against Islamic State from inside Syria if the U.S. rejects his proposal to join forces, two people familiar with the matter said.

Putin's preferred course of action, though, is for America and its allies to agree to coordinate their campaign against the terrorist group with Russia, Iran and the Syrian army, which the Obama administration has so far resisted, according to a person close to the Kremlin and an adviser to the Defense Ministry in Moscow.

Russian diplomacy has shifted into overdrive as Putin seeks to avoid the collapse of the embattled regime of Bashar al-Assad, a longtime ally who's fighting both a 4 1/2 year civil war and Sunni extremists under the banner of Islamic State. Israeli Prime Minister Benjamin Netanyahu flew to Moscow for talks with Putin on Monday, followed by Turkish President Recep Tayyip Erdogan on Tuesday.

Putin's proposal, which Russia has communicated to the U.S., calls for a "parallel track" of joint military action accompanied by a political transition away from Assad, a key U.S. demand, according to a third person. The initiative will be the centerpiece of Putin's one-day trip to New York for the United Nations General Assembly on Sept. 28, which may include talks with President Barack Obama.

"Russia is hoping common sense will prevail and Obama takes Putin's outstretched hand," said Elena Suponina, a senior Middle East analyst at the Institute of Strategic Studies, which advises the Kremlin. "But Putin will act anyway if this doesn't happen."
And that, as they say, it that. Checkmate.
The four-year effort to oust Assad by first supporting and then tolerating the rise of Sunni extremists (presaged in a leaked diplomatic cable) has failed and the Kremlin has officially served a burn notice on a former CIA "strategic asset."
There are two things to note here.
First, Russia of course is fully aware that the US has never had any intention of eradicating ISIS completely. As recently as last week, Moscow's allies in Tehran specifically accused Washington of pursuing nothing more than a containment policy as it relates to ISIS, as allowing the group to continue to operate in Syria ensures that the Assad regime remains under pressure.
Second, even if Russia does agree to some manner of managed transition away from Assad, you can be absolutely sure that Moscow is not going to risk the lives of its soldiers (not to mention its international reputation) only to have the US dictate what Syria's new government looks like and indeed, Tehran will have absolutely nothing of a regime that doesn't perpetuate the existing Mid-East balance of power which depends upon Syria not falling to the West. Additionally – and this is also critical – Russia will of course be keen on ensuring that whoever comes after Assad looks after Russia's interests at its naval base at Tartus. This means that even if the US, Saudi Arabia, and Qatar are forced to publicly support a managed transition, Washington, Riyadh, and Doha will privately be extremely disappointed with the outcome which begs the following question: what will be the next strategy to oust Assad and will it be accompanied by something even worse than a four-year-old bloody civil war and the creation of a band of black flag-waving militants bent on re-establishing a medieval caliphate?
This article was written by Tyler Durden and originally published at Zero Hedge.