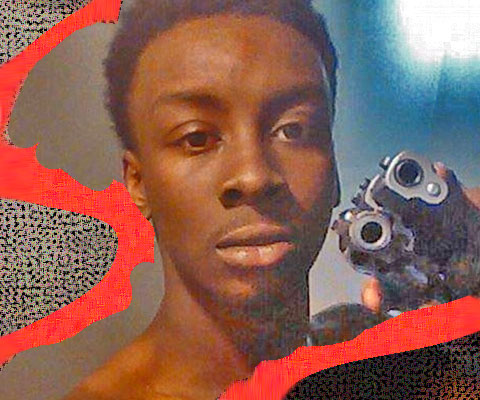 The events in Ferguson are continuing to yield further violence and tension.
18-year old Tyrone Harris, reportedly a close friend of Michael Brown, went on an anniversary revenge killing spree against police – and once again remembered to pose for all the appropriate pictures for total media exploitation!
If you don't see the strings being pulled throughout this entire drama, escalating towards the final act, then maybe we are simply witnessing a different series of news reports.
The media's eye, and the attention of the nation, have been manipulated to focus on specific cases of killings by police, and tragic ends for black Americans caught up in police dealings, sometimes with cause and sometimes without the first pretext of justifiable suspicion.
Trayvon, Mike Brown and a handful of other household names have rocked the nation and consumed months of media television time.
Now, Tyrone Harris who allegedly fired at police and was critically wounded by return fire, is poised to be the new face of horror in the manufactured race war with police on one side and black activists on the other.
Mind you, the police have already been threatened by prison gangs and street gangs, while the NYPD had two officers assassinated.
But the latest incident introduces a new prototype for exploitation — a black man, intimately connected to the protests and riots that have swept the country, turned "revenge killer" or "racial terrorist." A ready made media bonanza!
With the right packaging, he is picture perfect to forward an agenda, as other shooters favored by the media have been.
Check out how Tyrone Harris is portrayed in the Daily Mail and beyond:
Armed teenager shot by police in Ferguson on anniversary of Michael Brown's death called himself 'Glocks', posed with guns and boasted of being a gangster.

Social media images posted by Tyrone Harris, 18, who was shot by police when he waved a handgun and opened fire in Ferguson, MO show he bragged about being a member of 'pistol gang'. Harris was shot when he opened fire, according to police, who released footage (insert) showing him with a handgun minutes before he was shot. He was critically injured and has been charged while in the hospital with assault on law enforcement. His social media postings show he called himself 'Ty Glocks' and posed with handguns (left and right), as well as with friends who waved money and flashed gang signs.
Hey @cnnbrk @FoxNews @msnbc why ain't y'all using this picture of Ty Glocks it's a much better pic pic.twitter.com/4CdNpY7utL

— Linda (@Linnlondon1) August 11, 2015
Now, ask yourself what the media circus will say and do next in the war of words that is agitating everyone's minds.
Then, ask yourself how law enforcement will be trained to handle crowds at protests, with potentially violent individuals at every event.
The larger psyop at work here is quite thought out, it seems.
Like Dylan Roof and Lee Harvey Oswald, this guy conveniently posted pictures of himself showing exactly what the larger story needs to move forward.
Rather than just being a titled game where all the cases are transparently one-sided obvious cases of wrongdoing, the cases that have underpinned a highly scripted 'Black Lives Matter' hashtag pseudo-revolution are murky at best, drawing at times the worst emotions from different political and cultural groups. Whether the news has come from the White House-chosen mouthpiece MSNBC, left-leaning and inventive with the news, or whether it comes from FOX News or conservative talk-radio, the whole affair has become entirely divisive.
And perhaps that's just how they want it.
During the George W. Bush years, the country was also highly manipulated by the media, while the country was steeped in terrifying rhetoric about the dangers of radical terrorists in the wake of 9/11. Every hour of TV news was drenched in fear mongering reports about jihadists and etc. who wanted to attack us. It was accompanied by a police state that threatened to label dissidents as potential terrorists or enemies, too.
In this presidential era, the nation has been drenched in stories of lone wolf terrorists — individual threats, all representing a basket of cultural identities that became radicalized after sensationalized mass shootings and deaths at the hands of police. With distorted portrayals about why it is all happening. Racial. Religious. Gender. Anti-Government. Hate crime. Lone nut.
Anything that will focus on people at odds with one another, and not the larger corruption of the institutions that are making things worse everyday.