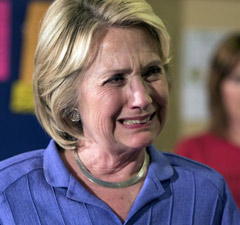 Fresh reports are confirming what we already knew – that Hillary Clinton was nowhere to be seen on election night because she was preoccupied with a terrible rage, losing it once again in front of her closest circle of staff and surrogates.
If these accounts have any validity, she was absolutely livid. Is there a more dangerous enemy to make, or a more unstable person to attempt to gain power over the nation?
According to The Gateway Pundit:
Radio host Todd Kincannon from The Kincannon Show tweeted today that a CNN reporter told him Hillary Clinton became physically violent towards Robby Mook and John Podesta around midnight last Tuesday as the presidency was slipping away.
Hillary was reportedly drunk and had a violent temper on full display. For one reason or another, she did not appear on stage election night to concede, delay, or anything else.
And it appears there was good reason for it, as she was busy lashing out, blaming those around and closest too her and playing the victim as her loss became more and more apparent.
CNN reporter tells me Hillary became physically violent towards Robby Mook and John Podesta around midnight; had to be briefly restrained.

— The Kincannon Show (@kincannon_show) November 14, 2016
She was. I posted about that too. She was in a "psychotic drunken rage" according to my reporter friend. Doctor added sedatives to the mix. https://t.co/jZv376ydDM

— The Kincannon Show (@kincannon_show) November 15, 2016
The report is unconfirmed, but is hardly surprising. It seems to fit the narrative we all expected.
Already accounts of that fateful election night have emerged of Hillary crying and sobbing all night, and rambling incoherently to her staff and support network.
In between her sobbing fits, Hillary reportedly remembered to blame FBI Director Comey as well as  the media – and likely many others – for her loss :
Here's what I know, not my opinion. About 6:30 this morning she called an old friend. She was crying inconsolably. She couldn't stop crying. And her friend, her female friend from way, way back said it was even hard to understand what she was saying she was crying so hard. This is Hillary we're talking about.

Eventually her friend said she could make out that she was blaming James Comey, the Director of the FBI, for her loss, and, I don't understand exactly, the president of the United States for not doing enough. (via Gateway Pundit)
Only a few weeks before the election, a report emerged about Hillary's alleged behavior backstage after the Commander-in-Chief Forum (the first pseudo-debate against Trump). According to the report, she went fully ballistic after host Matt Lauer was 'allowed' to ask an unscripted question pushing her on the email scandal:
Behind the scenes, NBC technicians and cameramen at the Wednesday night, Commander-in-Chief Forum (Sept 7) report that Hillary Clinton was so angry and incensed that she had been  'blind-sided' by one question she was not prepared for and had not approved in advance.

"When her time in front of the cameras ended, Clinton shook the hand Lauer extended to her and smiled once more for the wide camera shot and then Hillary proceeded to pick up a full glass of water and threw it at the face of her assistant and the screaming started. She was in a full meltdown and no one on her staff dared speak with her

[…]

[Hillary was] screaming at her staff, "you f – – – ing idiots, you were supposed to have this thing set up for me and you've screwed it up!   If that f – – – ing bastard wins we all hang from nooses!   Lauer's finished…and if I lose it's all on you ass – – – – s for screwing this up."

[…]

Interim DNC chairman Donna Brazile, the first black woman to hold the position, was singled out by Hillary during the rant.   She screamed at Donna, "I'm so sick of your face.   You stare at the wall like a brain dead buffalo, while letting that f – – – ing Lauer get away with this.   What are you good for, really?   Get the f – – – to work  janitoring this mess – do I make myself clear?"

Much more could be said about the reputation that precedes Hillary, her angry and demeaning temper, throwing objects, etc. but there is no need to go on.
The people of the United States dodged a devil… but that doesn't mean that more evil isn't fast approaching with the cesspool that is Washington.
No election is going to break the cycle of corruption and criminality that has long defined the actions of the leaders of the federal government.
Read more:
We Finally Know Why Hillary Disappeared On Election Night: "She Was Crying Inconsolably… It Was Hard To Understand What She Was Saying She Was Crying So Hard"
"She Was In Full Meltdown": Hillary Unleashed On Donna Brazile For Unapproved Debate Question
Make No Mistake: "Everyone Who Is Warning About Clinton Is A Target and They Are Marked"