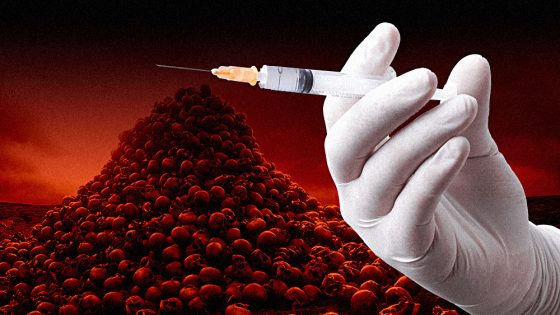 If Pfizer is successful, and the Food and Drug Administration gives them the approval to distribute the gene therapy falsely being a labeled a vaccine, the United States government could then mandate it for all military personnel who have, so far, been holdouts.
Have you ever wondered why the emergency pandemic declaration made by Donald Trump last March was never removed? It's so they can "vaccinate" under emergency use authorization.  Once this gene therapy receives full FDA approval, anyone over 16 can be injected at any time. And Pfizer still won't have any liability for any side effects, so it's a massive win for them either way.
The companies announced they started their Biologics License Application (BLA) for the FDA to grant full authorization to give their vaccine to those 16 and older.

With the FDA's full approval, the Pfizer-BioNTech vaccine could be given to patients after the public health emergency is declared over. -The Hill
The Pfizer-BioNTech vaccine would be the first COVID-19 gene therapy intentionally falsely labeled as a "vaccine" in the U.S. with the FDA's full approval.
"We are proud of the tremendous progress we've made since December in delivering vaccines to millions of Americans, in collaboration with the U.S. Government," Pfizer Chairman and CEO Albert Bourla said.  "We look forward to working with the FDA to complete this rolling submission and support their review, with the goal of securing full regulatory approval of the vaccine in the coming months," he added.
COVID-19 mRNA Shots Are Legally Not Vaccines
The companies' two-shot mRNA vaccine was the first to receive the FDA's emergency use authorization in the U.S. on Dec. 11, followed by the Moderna and Johnson & Johnson vaccine.  Since then, according to Pfizer and BioNTech, more than 170 million doses have been distributed across the country.
The companies are seeking full approval after 6 months of data following a second dose.
Stay alert and know what's happening. Stay prepared. We know this "vaccine" is a piece of the overall agenda we just don't know how much yet. We should be prepared for the FDA (government aka ruling class) to approve this for Big Pharma and mandates begin for the military. Things could really start to get interesting in the coming months unless people begin to figure some of this out.
Medical Journal: Get The COVID-19 Vaccine, Or Be Punished HARSHLY