This article was originally published by Tyler Durden at ZeroHedge.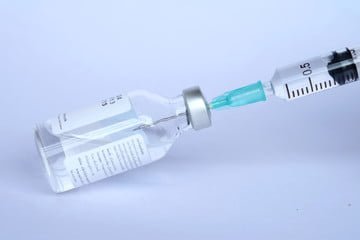 Following the emergence of various 'glitches' yesterday in the rollout of Pfizer/BioNTech's COVID-19 vaccine, the giant pharma company has been forced to make a statement about the situation regarding a healthcare worker in Alaska who was hospitalized on Tuesday with a 'serious allergic reaction' after receiving Pfizer's COVID-19 vaccine.
As we detailed yesterday, a healthcare worker in Alaska has reportedly been hospitalized with a serious allergic reaction after taking Pfizer's Covid-19 vaccine. However, what stood out, in this case, was the fact that the health worker had no reported history of drug allergies, unlike others who've suffered such reactions.
The reaction was reportedly similar to the anaphylactic shock suffered by multiple healthcare workers in the UK, where the Pfizer-BioNTech jab was approved earlier this month and RT reports that, in a statement, Pfizer said that it is "working with local health authorities" to assess the details of the report about a "potential serious allergic reaction," pledging to "closely monitor all reports suggestive of serious allergic reactions following vaccination" and "update labeling language if needed."
They also added that "there were no safety signals of concern identified in our clinical trials, including no signal of serious allergic reactions associated with the vaccine."
As a reminder, UK health authorities have warned people with any history of "anaphylaxis to a vaccine, medicine, or food" away from getting the Covid-19 shot, and suggested that facilities set up to administer the vaccine be equipped with "resuscitation equipment" – guidance echoed in Pfizer's own prescribing information.
In the US, providers have been advised against giving the vaccine to anyone with a "known history of a severe allergic reaction" to "any component of the vaccine."
Elsewhere, additional glitches are occurring (over and above yesterday's), some of the first doses of the Pfizer Inc.-BioNTech SE Covid-19 vaccine were held up from delivery in the U.S. this week and sent back to the company because they were colder than anticipated. Bloomberg reports that Gustave Perna, the army general who serves as Operation Warp Speed's chief operations officer, said that two trays of vials at two California locations were colder than they are supposed to be. The same thing happened at one location in Alabama, Perna said at a news briefing Wednesday.
Each of the four trays could likely be used to vaccinate 975 people. Pfizer has said its formula needs to be stored at 70 degrees below zero Celsius, the equivalent of negative 94 degrees below zero Fahrenheit. About 2.9 million doses are being distributed across the U.S. this week.
The four trays never left the trucks they arrived on, Perna said, adding "we were taking no chances."
Pfizer, the Food and Drug Administration, and the Centers for Disease Control and Prevention are all working to determine whether the formula can still be used when it reaches such low temperatures, according to Perna.