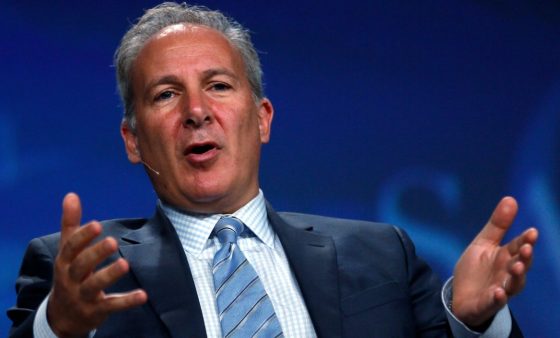 Peter Schiff isn't known for mincing words or sugarcoating the evidence.  The financial broker and economist said in an interview "the economy is going to blow up like a bomb," and when that happens, Donald Trump will take all of the blame.
Not even a full minute into an interview with Alex Jones of Info Wars, Schiff says "it's not a good thing" that the economy is going to crash and burn. "Unfortunately, that's what Trump has inherited from Obama. But it's not even really just Obama, it's the federal reserve. It's the monetary policy that has been passed like a baton from Clinton to Bush to Obama and now to Trump. And we're near the end of the game and unfortunately, Trump's gonna be the fall guy.  This thing is all gonna collapse while he's president."
The tax cuts will give Democrats a reason to blame the collapse all on the Republicans, says Schiff.And we are getting close to this collapse.
"The important thing, is if you look at what's happening in the dollar, for example, last year was the first year in five years that the dollar went down and it was the biggest decline in 14 years. We has the biggest drop against the Chinese Yuan in nine years, and in fact, I think this year we're gonna fall to an all time record low against the Yuan. I think we're gonna hit record lows against other major currencies like Euro and the Yen maybe by 2019 or 2020."
Jones then asks Schiff what Trump is supposed to do to stop the crash. Schiff says there's nothing he can do.  It's set up to crash so the United States will end up with a left-of-socialist dictator such as Bernie Sanders as the next president.
"He [Trump] campaigned and said it [the stock market] was a bubble. It wasn't his bubble.  Now it's his bubble; that's the problem. But if he would have said 'it's a bubble and it's going down,' it wouldn't have been his fault.  Because part of the cure for the economy is deflating these bubbles. It has to be done. Someone has to rip this bandaid off and he was elected to do it."
Jones then asks Shiff to walk him through what an economic implosion would look like.
"Here's how it's gonna go down. So, what's gonna happen is interest rates are gonna keep rising, commodity prices are gonna keep rising, the dollar's gonna keep falling, so you're gonna start to see pick-ups in the official inflation rate. And so, rising consumer prices and rising interest rates are gonna start to be a powerful headwind for the economy because Americans are gonna be spending a lot more money on basic necessities, if they have an adjustable rate mortgage…costs are going up. Credit card debt, auto loans, all this cheap money is gonna be gradually going away and the economy is going to be weakening. And as the economy is weakening, unemployment is gonna start to pick up. Now the Fed is gonna see this. The Fed is gonna see the economy slowing down, and if they continue to raise rates, it will go into recession. Now, that's better than the alternative.

But, the alternative, if the Federal Reserve decides that they want to prevent a recession or maybe fight off a recession if it happens and they don't recognize it in time, if they wanna prop up the stock market, then what they have to do is call off the rate hikes.  In fact, I think that they have to go back to zero, they have to launch QE4 in order to keep interest rates from really spiking and to prop up the market, but that will set off a currency crisis. The dollar will plunge, not just make new lows. That will set of an economic crisis that's far worse than the financial crisis or the recession that we are trying to avoid."
Schiff then says the problem is also unfunded liabilities such as social security and Medicare.  He says that China doesn't have any of those.  The Chinese rely on themselves, have disposable income, and save 30% of their income and taxes are almost nothing to keep businesses booming.  While Americans pay a lot of taxes, save only 3%, live paycheck to paycheck, and rely on the deeply indebted government. Becoming self-reliant and preparing yourself for this crash will give you a hand up in during the dollar's collapse.
Jones then stated that "betting against America," wasn't a good idea.  But Schiff fired back.
"I'm not betting against America. I'm betting against the socialists and central bankers who have destroyed America. In the long run, maybe America's gonna come back. But first, we're gonn have to pay the piper."