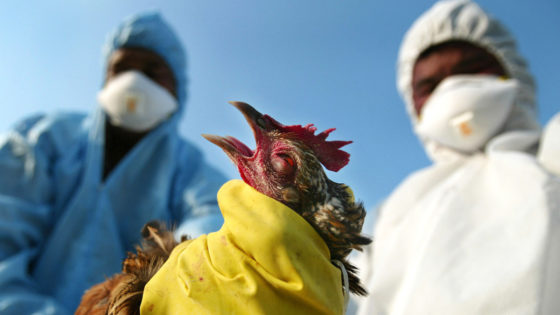 A new strain of bird flu, H7N9, has sparked fears of a major outbreak among scientists. Dubbed "Disease X." the new strain has already infected more than 1600 people and killed over 600 of those in China.
Experts believe at this time that this virus could become more contagious. According to Plant Based News, as of right now, the only way a human can become infected with "disease X" is to come in contact with infected birds but there's a high degree of speculation that that will change in the near future. Experts suspect that as few as three mutations could result in a human-to-human contagion causing a potentially worldwide pandemic.
England's Deputy Chief Medical Officer Professor Johnathan Van-Tam also expressed fears that H7N9 "could be the cause of the next pandemic," because the new strain kills about kills 38 percent of those it infects.  "[H7N9] is an example of another virus which has proven its ability to transmit from birds to humans," said Van-Tam.
According to Newsweek, The World Health Organization in March included "Disease X" in its most recent global strategy and preparedness plan known as the 2018 R&D Blueprint. The name, "represents the knowledge that a serious international epidemic could be caused by a pathogen currently unknown to cause human disease, and so the R&D Blueprint explicitly seeks to enable cross-cutting R&D preparedness that is also relevant for an unknown "Disease X" as far as possible."
Symptoms of infection include fever, coughing, shortness of breath, pneumonia, acute respiratory distress syndrome, septic shock, and organ failure.
https://www.shtfplan.com/emergency-preparedness/bird-flu-from-chinese-poultry-infects-humans-for-the-first-time-dangerous-human-bird-flu-virus-hybrids-possible_02192018
"Influenza viruses constantly change and it is possible that this virus could gain the ability to spread easily and sustainably among people, triggering a global outbreak of disease," says the U.S. Centers for Disease Control and Prevention. It has the "greatest risk to severely impact public health if it were to achieve sustained human-to-human transmission."