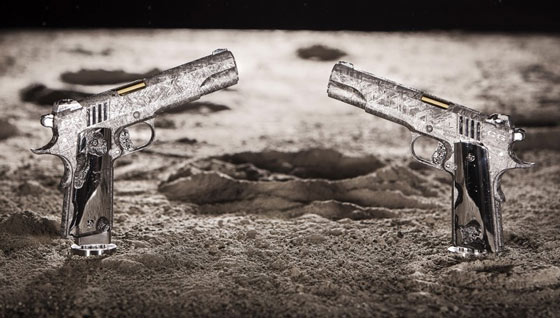 (The Cabot Guns 1911 Big Bang Pistols come in a set of two. Photo Credit Robb Report)
We've featured some pretty awesome weapons at our web site, but perhaps none as unique as the Cabot Guns Big Bang Pistol.
Unlike other handguns you may have seen, the .45 caliber Cabot 1911's took over 4 billion years to come to fruition and find their origins in the moment the universe was created. According to Robb Report the pair are "the first mechanical devices made from a meteorite in the history of mankind."
The gun maker used Gibeon meteorite, a premium metal because it is non-rusting says Cabot metallurgist Jay Morely.
The firearms come in a set of two (left and right handed) and within minutes of the announcement an interested buyer offered up $1 million for the pair without having ever laid eyes on them.
The eventual purchase price after a bidding war ensued?
$4.5 million.
Cabot metallurgist Jay Morely tells Robb Report. "But it was heat-treated by God—born in enormous heat, frozen solid in space, heated again as it blasted into Earth's atmosphere, and then cooled again. It's relatively soft and full of inclusions, bits of debris that hit the meteor at thousands of miles an hour millions of years ago."

…

"Not to coin a phrase," says Rob Bianchin, founder and president of the Pennsylvania gun maker, "but we were sweating bullets. That first cut, when we sliced the meteorite chunk in two, was really scary."

The only parts of the Big Bang pistol set that aren't made of meteorite are the springs, sears, barrels, hammer strut, pins, screws, and slide rails. Everything else—slides, frames, triggers, magazine release, and grips—is pure Gibeon. Speaking of frightening, the guns' first test firing was a bit daunting.

…

The Big Bang pistols are a never-to-be-repeated landmark achievement. In addition to their cosmic history, these firearms trace their roots to prehistoric times here on Earth: Ancient Africans used the Gibeon meteorite to create some of humanity's first weapons.
The guns are forged from a 35 kilogram Gibeon meteorite found in the sub-Saharan part of Africa known as Nambia in 1838.
From this: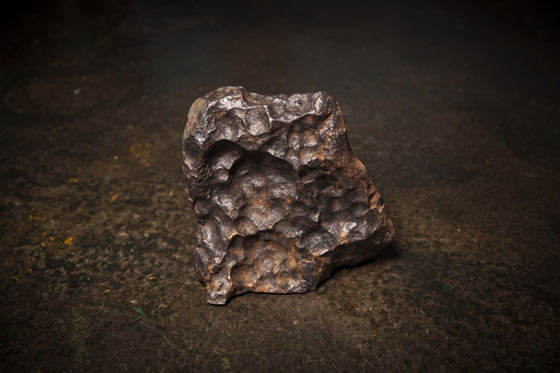 To this: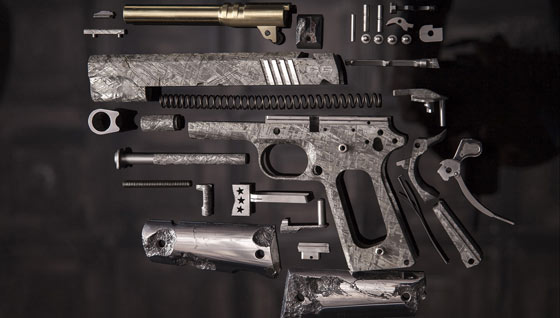 (The slides, frames, triggers, magazine release, and grips are pure Gibeon Meteorite)