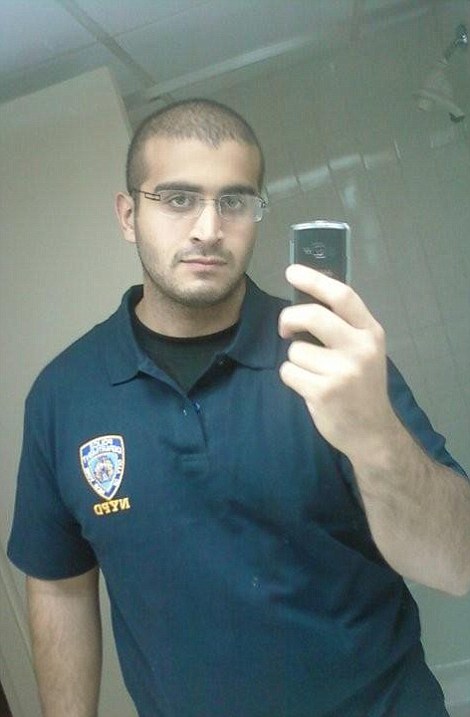 Has Homeland Security been infiltrated?
There are clearly larger questions about the stunning mass shooting that took place at an Orlando nightclub, now considered the largest of its kind in U.S. history.
The accused assassin was a long-term government security contractor who had access to numerous compromising positions in the national security infrastructure.
Here are some of the stunning details that have already come out
via Counter Jihad:
The Orlando nightclub terrorist who pledged allegiance to ISIS worked almost a decade for a major Department of Homeland Security contractor, raising alarms that ISIS sympathizers and agents have infiltrated the federal agency set up after 9/11 to combat terrorists.

Officials say Omar Mir Seddique Mateen, an Afghan-American who held two firearms licenses and a security officer license, was employed by the security firm G4S Secure Solutions USA Inc. since Sept. 10, 2007. The Jupiter, Fla.-based company merged with the Wackenhut Corp. after 9/11 and assumed federal contracts.

"G4S supports the U.S. Department of Homeland Security, Customs and Border Protection (CPB), with its operations at the U.S. ­ Mexico border and with U.S. Immigration and Customs Enforcement (ICE) to transport illegal immigrants in selected urban areas," the company says in a brochure.

The DHS contract with G4S is worth more than $234 million. The contract states that one of the "performance requirements" is helping identify "suspected terrorists" trying to enter the U.S. The security contractor also provides security guards and other security services for "90 percent of U.S. nuclear facilities."
Do the acts of Afghan-American Omar Mir Seddique Mateen represent a breach of Homeland Security – set up with so much power in the first place to counter terrorists who had carried out 9/11 and planned to strike again.
Was Mateen connected to anyone else within G4S who is involved in a potential attack or working intelligence ostensibly to thwart such activities?
Is Omar Mir Seddique Mateen part of a larger connected plot that has yet to materialize?
Critics have frequently pointed to the flaws in the immigration system and the possibility of a dangerous jihadists infiltrating at the border.
Now, it is one degree of separation away from what is happening with respect to terrorist acts and infiltration.
Here is a case of a security contractor working in areas of G4S that had contracts with Homeland Security and Customs and Border to bus "non-Mexican" illegal immigrants apprehended at the border to sanctuary cities such as Phoenix in Arizona, Houston/Austin/Dallas in Texas or Miami in Florida (not far from where Mateen worked in Jupiter, Florida):
G4S uses fortified buses to transport "hundreds of thousands of illegal immigrants" from city to city and from cities to the U.S.-Mexican border. But earlier this month, Judicial Watch revealed G4S has been quietly moving and releasing van loads of illegal aliens away from the border to interior American cities.

The immigrants were classified as OTMs — Other Than Mexican — and included mostly Central American illegals but possibly also foreign border-crossers from the Middle East and Pakistan.
Driving illegal aliens to sanctuary cities on federal government contracts? That's pretty shady business already.
But what if this guy, or someone else like him with radical views, had bused a load of ISIS members to sanctuary cities, and given them organized entry into the country for positioning?
For now, it is only a scenario, but Mateen's position in government security, juxtaposed next to his apparent radical Islam-inspired mass shooting, raises some eerie questions about how vulnerable that system is:
It's not clear if the 29-year-old Mateen worked on any federal contracts or dealt with federal inmates. One of his jobs was to help transport and guard state and local prisoner youths in Florida. The subsidiary he worked for — G4S Secure Solutions USA Inc. — is based in Jupiter, Fla., which is located just south of Mateen's home in Fort Pierce, Fla.

It's also not immediately known if he had federal security clearances, or what kind of security background check G4S administered before hiring Mateen.

But he continued to guard prisoners despite reports he openly praised ISIS in conversations with co-workers, and even though he had been under federal investigation for terrorism ties since at least 2013.
G4s services cover jobs in every conceivable area of security… and penetrate nearly every level of the national security and defense structure:
G4S supplies guards, "detention officers, court security officers, baggage handlers, security clerks, and prisoner bus and van drivers."
Employing more than 50,000 Americans, G4S provides security support for several other federal agencies, as well, including the departments of State, Interior, Labor, Justice and Energy, and the IRS and Drug Enforcement Administration. The security firm also partners with the U.S. Army, U.S. Air Force and NASA.
Like Fight Club, their agents and sleepers are everywhere. They are America's security… and that means America's security don't mean much.
Arguably, G4S is everywhere that security is in jeopardy.
Could a mole, infiltrator, terrorist, lone wolf, mercenary or covert agent deliberately find employment at G4S and use it for access and as cover for their criminal activities? Obviously, the answer is clear.
There is a fundamental flaw that allows hiring to be easily controlled or steered by any prevailing agenda, and the mandate of Customers & Border (or any other agency) to be altered for politically expedient or covert reasons – as noted above by government contracts to bus illegal aliens to sanctuary cities.
So is there a connection between this episode of terror, and the terrorism agenda of Homeland Security?
Who is really sponsoring this terrorist activity, who is exploiting it in the media, and who stands to gain from the reaction to fear playing out in the population?
These questions are not impossible riddles… but they go unanswered because of the institutional attachments to these major events.
The solutions provided to answer the threat of terrorism (military-style local police forces, Homeland Security's mismanaged and undue dominance over nation's security system, weapons and equipment sales, high tech surveillance gear, watchlists) have encroached upon the rights of Americans on all footings.
Meanwhile, there is motive for someone to create the pretext, to create the problems that the officials will address.
If it happens, no one knows exactly who it is. But basically, specialized contractors of some kind trained in black ops is a good opening premise for covert action.
With all the details that have and will come out about this event – now the largest mass shooting in U.S. history – there are will remain questions surrounding the ties between Mateen, the apparent suicide-mass murderer and G4S, perhaps the largest government-tied security contractor.
Equally important are the ties between G4S and between the FBI and the accused jihadist, who they interviewed multiple times over a ten month period. As Tony Cartalucci reports:
Mateen first appeared on authorities' radar in 2013 after the security guard's colleagues alerted the FBI to inflammatory statements he made to colleagues claiming "family connections to Al Qaeda," according to Comey.

[…]

Nevertheless, FBI investigators investigated Mateen, who was born in New York, for 10 months. They introduced him to confidential informants, spied on his communications and followed him. They also interviewed him twice.
Was there much more to their involvement? There is clear reason to consider that there was continued involvement.
The "War on Terror" has been largely a pageant of sensational threats, when you take into account the documented history of the FBI and its admitted pattern of setting up jihadists and terrorists in "sting operations" where individuals are often set-up and burned in the media with failed 'terror plots':
New York Times: Terrorist Plots, Hatched by the F.B.I.

THE United States has been narrowly saved from lethal terrorist plots in recent years — or so it has seemed. A would-be suicide bomber was intercepted on his way to the Capitol; a scheme to bomb synagogues and shoot Stinger missiles at military aircraft was developed by men in Newburgh, N.Y.; and a fanciful idea to fly explosive-laden model planes into the Pentagon and the Capitol was hatched in Massachusetts.

But all these dramas were facilitated by the F.B.I., whose undercover agents and informers posed as terrorists offering a dummy missile, fake C-4 explosives, a disarmed suicide vest and rudimentary training. Suspects naïvely played their parts until they were arrested.
While most of these people never killed anyone – let alone scores of people – they typically are recorded while confessing intended acts of violence on unlikely scales of mass destruction – all while being set up with money, weapons, inspiration and the all-important gentle-nudging from a beloved "uncle figure" like an FBI under-cover agent provocateur.
FBI organizes almost all terror plots in the US

By providing weaponry, funds and a plan, FBI-directed agents will encourage otherwise-unwilling participants to plot out terrorist attacks, only to bust them before any events fully materialize.

The report reveals that the FBI regularly infiltrates communities where they suspect terrorist-minded individuals to be engaging with others… agents are sent in to converse within the community, find suspects that could potentially carry out "lone wolf" attacks and then, more or less, encourage them to do so.

[…]

The report also reveals that, of the 500-plus prosecutions of terrorism-related cases they analyzed, nearly half of them involved the use of informants, many of whom worked for the FBI in exchange for money or to work off criminal charges. Of the 158 prosecutions carried out, 49 defendants participated in plots that agent provocateurs arranged on behalf of the FBI.
With homegrown terrorism, there is much more than meets the eye going on.
As the nation's media focus on the scale of the tragedy and the human impact, they would do well to also draw attention to the 'public relations elements' going on in the terror narrative and the version of the accused attacker that is  painted publicly, while so many important details and inconsistencies fall off into obscurity.
Read more:
Homeland Security "Concerned About Security Breach" From ISIS As Refugees Prepare to Flood America
Multiple Suspects On The Loose in Orlando – Why The Media Blackout Of Eyewitness Accounts?
Orlando Killer Worked For Company Transporting Illegal Immigrants Inside US; Was Interviewed By FBI 3 Times
Update: Shooter's Father Says This Was Not About Religion… Orlando Nightclub In Gun Free Zone… Pledged His Allegiance to ISIS on 911 Call