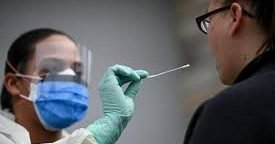 The Omicron BA.2 subvariant and newer BA.2.12.1 now make up more than 90% of the overall COVID variants in the United States. Another subvariant, BA.2.12.1 now accounts for roughly 1 in 5 new cases nationwide.
But BA.2.12.1, along with another version of omicron, called BA.2.12, is said to be responsible for the recent spike in Covid cases seen in upstate New York, the State Department of Health said last week.
State health officials estimated the latest variant to be 23 to 27 percent more transmissible than BA.2, which itself was more transmissible than the original omicron variant. However, there's currently no evidence to suggest that BA.2.12.1 causes more severe disease, according to a report by NBC News.
John Moore, a professor of microbiology and immunology at Weill Cornell Medical College, in Manhattan, said scientists should expect to see continued increases in the transmissibility of the virus as it continues to mutate.
The speed at which BA.2.12.1 is outpacing BA.2 is roughly as fast as BA.2 outcompeted its cousin BA.1, according to Trevor Bedford, an epidemiologist and genomic scientist at the University of Washington's School of Public Health, according to CNN. 
The attempt to keep the fear high and the injection rate higher is ongoing. The ruling class has already seen how easy it is to panic the masses into domination and grab totalitarian control over them.
Fauci Warns: The Scamdemic Isn't Over Yet
Dr. Fauci: "New Variants" Are Coming Soon & The Point Of Lockdowns
Fauci: The "Full Blown" Scamdemic Is "Almost Over" In The U.S.
We've been told time and time again that this scamdemic is not over, to expect more variants, and to prepare for the dystopia of lockdowns once again.
Coupled with the food shortages, adding more COVID restrictions could be detrimental to both the economy at large and individuals just trying to get by, and feed their families.