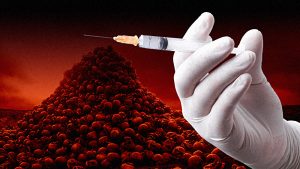 Official government data released by Canada's rulers is revealing some rather disturbing information.  The data shows that those who have taken three shots of the COVID-19 vaccine are 5.1 times more likely to die of COVID than the unvaccinated.
Canada's data shows that the double vaccinated population across Canada has now lost on average 74% of their immune system capability, and the triple vaccinated population across Canada has now lost on average 73% of their immune system capability compared to the natural immune system of unvaccinated people, according to a report on the data by the Daily Expose. 
More Government Documents Prove COVID-19 Vaccines Are Causing AIDS
Because of the degradation of the immune system (AIDS) after taking these shots, the mortality rate has jumped for those who are told they have COIVD. It's even worse for the triple vaccinated population in terms of their risk of death. The official figures show that they are on average 3.7 times more likely to be infected with Covid-19 but 5.1 times more likely to die of Covid-19 than the unvaccinated population.
The following chart shows the total number of Covid-19 cases per week by vaccination status across Canada between 31st Jan 22 and 27th Feb 22 –
As you can see the not-vaccinated population has accounted for the least amount of cases every single week, and they have fallen week on week from 6,932 in the week ending February 6th, to 2,993 in the week ending February 27tj.
Whereas cases among both the double and triple vaccinated have been astronomically higher but still fell week on week, except for the week ending February 27th where we can see cases among the triple vaccinated started to climb again.
'But this is to be expected when the unvaccinated population is so small!', we hear you claim. But unfortunately, you're wrong.

The population of Canada is approximately 38.01 million.

The unvaccinated population size is deduced by simply subtracting the total population size of those who've received at least one dose of Covid-19 Vaccine in Canada from the overall population size of 38.01 million. The double vaccinated population size is simply deduced by subtracting the triple vaccinated population size from the total population size of those who've received at least two doses in Canada.
The "total numbers" released by Canada are calculated since the start of the scamdemic. They represent "running totals". In order to figure out how many each week are getting infected, hospitalized, or dying. Subtractions need to be done. For the full breakdown, please go to the Daily Expose, where they will explain the mathematics involved in detail. For those who want Canada's official numbers, please go here. They even state on their website "data should be interpreted with caution." Meaning, don't look too deep or you'll be able to deduce what's really going on.
As far as anyone is concerned, we should interpret this data however we want. The fact that the ruling class is telling you not to is the problem. If you look into it and come to a different conclusion, there's nothing wrong with that. What's more important is that we have it and have access to all opinions regarding the interpretation of it. In my very humble opinion, which is nothing more than that, things are not looking good for those who have gotten the shots. Prepare for another variant, because at this point, if it's true that immune systems are failing, the ruling class will need to hide the deaths behind something. It's already getting tougher to do.
Excessive Deaths Soar In Countries When "Vaccine" Uptake is High