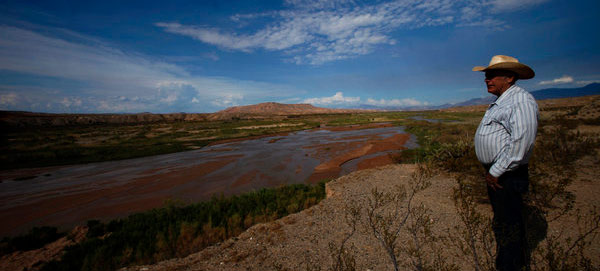 This article was written by Alex Thomas and originally published Intellihub.com.
Editor's Comment: Will this latest action, taken by Obama quietly as if in stealth, once again provoke a revolutionary response? It appears that the very land that activists swore the federal government was just trying to take in order to occupy lucrative and mineral rich deposits is indeed highly coveted by President Obama's faction, at least enough that he wanted it off limits to the patriot upstarts that created not one but two standoffs on the exiting-president's watch.
The abuse of government power over private property, especially by one individual, is part and parcel of the historical reasons for revolutions, bills of rights and new forms of government.
As Obama prepares to finish his last three weeks in office as a lame duck, it is clear that he is intent on damaging as much of the country as he possibly can, and on clamping down on those who still thirst for independence and freedom. His legacy will be more tyrannical than his cool demeanor and broad smile typically suggest.
Obama Seizes Area Near Bundy Ranch In Massive Last Minute Land Grab
by Alex Thomas
With a stroke of the pen President Obama has unilaterally declared vast swaths of land in Utah and Nevada as two new national monuments, thus putting them under control of the federal government.
Startlingly, the area in Nevada includes the site of the infamous Bundy Ranch standoff as well as land very close to the Bundy Ranch itself. With this move Obama has possibly triggered another armed standoff while also heading off any moves set to be made by incoming president Donald Trump.
A "fact sheet" put out by the White House reads:
Today, President Obama will designate two new national monuments, protecting sacred sites, spectacular scenery, and important natural and cultural resources in the desert landscapes of southeastern Utah and southern Nevada. The creation of the Bears Ears National Monument in Utah and the Gold Butte National Monument in Nevada follow years of robust public input from tribes, local elected officials, and diverse stakeholders, and draws from legislation introduced in Congress.

In addition to protecting more land and water than any Administration in history, President Obama has taken unprecedented steps to elevate the voices of Native peoples in the management of our natural resources.  Today's actions build on this important work, and further demonstrate the President's commitment to protecting sacred sites and our land, water and wildlife for future generations.

[…]

Gold Butte National Monument

Located in Clark County, Nevada just northeast of the outskirts of Las Vegas, the Gold Butte National Monument spans nearly 300,000 acres and will protect significant cultural resources, important geological formations, and vital plant and wildlife habitat. The monument will provide critical protections for important Native American historical sites, as well as areas that are currently used for traditional purposes by tribes. Notably, the area includes abundant rock art, archeological artifacts, and rare fossils, including recently discovered dinosaur tracks dating back hundreds of millions of years. In recent years these resources have faced increasing damage from threats such as deliberate destruction and vandalism, and today's designation will help ensure that these cultural and archaeological treasures are better protected.

The monument will serve as an important connection between already protected lands, including Lake Mead Recreation Area and the Grand Canyon-Parashant National Monument across the Arizona border, protecting key wildlife corridors for large mammals such as desert bighorn sheep and mountain lions, and vital habitat for the threatened Mojave desert tortoise. Additionally, the monument will protect important historic resources. Structures that detail western ranching heritage can still be found in the Gold Butte area, as well as an early twentieth-century abandoned mining town and sites associated with Spanish explorers from the late eighteenth century.

Today's action follows decades of local support from tribes, local stakeholders and conservationists, and draws from legislation that was first introduced in 2008.
Right now it is extremely difficult to confirm exactly how much of the land in and around the Bundy Ranch is now a national monument but a map put out by the Las Vegas Review seems to line up directly with the Bundy grazing allotment.
"Obama just designated the Bundy Ranch a national monument"
Vocativ is reporting that multiple individuals involved with the original Bundy standoff have already made it clear that they plan to stand up to this latest federal tyranny.
"Members of the self-styled militias that swarmed to the aid of Cliven Bundy outside of Las Vegas in 2014 — and who later joined the rancher's sons to seize a federal wildlife refuge in rural Oregon — said they were readying for another showdown. Obama's move on Wednesday to protect 300,000 acres of federal land around Gold Butte, close to the Bundy ranch, comes as two dozen people await trials for their roles in the Nevada and Oregon standoffs, which emboldened right-wing militants across America and became a powerful symbol of anti-government sentiment," read the report.

"Get your gear ready," wrote Jon Ritzheimer, one of the men who used handguns and assault rifles to hole up in Oregon's Malheur National Wildlife Refuge for 41 days last year. "Obama just designated the Bundy Ranch a national monument."

"Others with ties to patriot groups and militia movements online responded with a bit more force. "Locked and loaded ready to go," wrote Chris Border, a member of the Cliven Bundy's Army! Facebook group, which boasts more than 2,000 members. "Tired of this crap and time to do something."
One has to wonder what exactly are the reasons for this new land grab by President Obama in the last days of his presidency. It's extremely hard to imagine that it is not at least partially connected to the Bundy's and the standoffs in both Nevada and Oregon.
More importantly, this area may actually include land that has documented precious metals throughout it as detailed in the video report below.
More information as to the exact implications of this massive land grab are sure to be released in the coming days and will be covered here extensively.
Note: An interesting discussion about the implications surrounding Obama's new land grab was also recently released by patriots in the area, which can be found in the video below.
This article was written by Alex Thomas and originally published Intellihub.com.